1st Trimester Checklist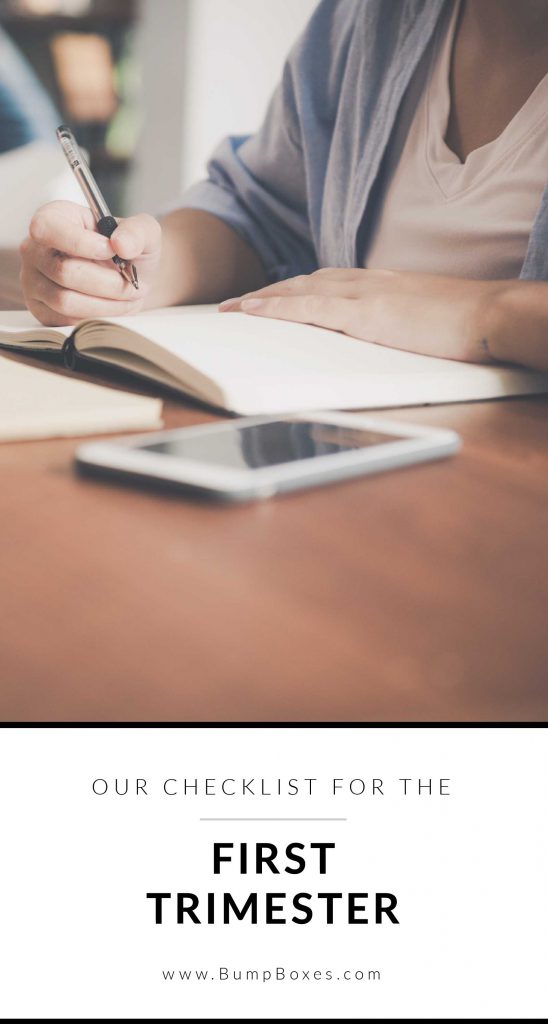 Your 1st Trimester Survival Guide
For some, the 1st trimester can feel like a drop off a cliff. One minute you're on stable ground and the next, BOOM! You're pregnant! Suddenly your mind is dominated by thoughts, questions, and worries. "Am I having a boy or girl?" "What color should I paint the nursery?" "Is this real life?"
Never fear, new mom! We have just the thing you need to get organized and into the swing of pregnancy. Our 1st trimester guide will keep you on track for the next 12 weeks!
Step 1: Make sure that you're really pregnant
Home pregnancy tests are very unlikely to deliver accurate results until about 1 week after you miss your period. You may want to try again in a few days, just to be sure!
Step 2: Tell your partner!
This is a fun one! Delivering the big news is an amazing experience. You don't have to make it a big production, because it will be special and memorable no matter what. Especially to your partner! Some mommies like to make cards or give their partner some baby clothes as a fun surprise; some are so overwhelmed by the surprise of a positive test that their partners hear them from across the house!
Step 3: Completely stop smoking and drinking!
It may be tough to do, but there is countless research about the negative effects of smoking and drinking on newborns. It can be very hard to quit cold turkey, but every cigarette and drink puts your baby at risk. Ditching the butts and the booze is an absolute must!
Step 4: Cut back on the Caffeine
You can still have that cup of coffee in the morning, but it is recommended that expecting mommies keep their caffeine at around 200mg per day (that's 2 cups of instant coffee or 1 cup of brewed). If you can, cut it out completely to be on the safe side. Be sure to keep an eye out for other sources of caffeine in your diet, like teas, soft drinks, and even chocolate!
Step 5: Take a prenatal vitamin ASAP
The folic acid, aka vitamin B9, in prenatal vitamins is absolutely ESSENTIAL for development during the embryonic period (That's right now). Also remember that a prenatal vitamin is not a substitute for a balanced diet, just a supplement for one.
Step 6: Eat well!
Your growing bump needs nutrition! Your provider will go over this with you, but most pregnant women need more protein, folic acid, calories (don't go overboard!), and iron. You're going to want to skip the sushi and soft cheeses, and work wholesome choices into your everyday diet. That way it's not so bad when you give into the occasional craving for a burger or slice of cake!
Step 7: Find a care provider and schedule a prenatal appointment
Even though you may know you're pregnant by 4 or 5 weeks, care providers won't see you until you hit 8 weeks. Make that call as early as you can! If you don't have a prenatal care provider, generally your options are between an obstetrician-gynecologist (ob-gyn), a physician, or a midwife. Talk to your friends and family members for their opinions and experience.
Step 8: Start thinking about finances
You've got your mind on your bump and your money on your mind! It's important that you consider budgeting for saving, especially during the 1st trimester. You're going to need to think about health insurance as well, to figure out what prenatal care your plan covers. Don't forget to consider how maternity leave will affect your finances. Babies are expensive to have and even more so to raise, so start saving as soon as possible!
Step 9: Go to your 8-week prenatal appointment
Your 1st prenatal checkup! Exciting isn't it? By now you have selected a prenatal care provider, doctor or midwife, and it's time for your two to get acquainted. We recommend keeping a list of questions to ask so you can get some peace of mind. Today you'll get your due date, run through your medical history, work out your options for genetic testing, get a physical, have a variety of tests run, and schedule your next appointment. Wow, that's a lot! But here's the best part: at this appointment you might be able to use a special device to hear your baby's heartbeat. Now that's incredible!
Step 10: Consider some maternity clothes
Depending on what week you're at when you read this, maternity clothes may seem a long way off. No, your belly won't look like a watermelon so early in the process, but you may notice your pants and bras are getting a lot tighter! Whenever you're sick of wearing unbuttoned pants, go for an extender or maternity wear!
Step 11: The big announcement!
You don't have to tell anyone during your 1st trimester, but soon enough it's going to be time to spread the news. Many women choose to wait until after the 1st trimester, when miscarriage risk decreases by a ton. It may simply be more important to tell your boss sooner rather than later as well. Sometimes, though, it's just too tough to hold in the big news! Whenever you're ready, be sure to have some fun announcing to your friends and family. It's a surprise like no other!
Step 12: Take some belly pics!
You may just be growing a little at a time in your 1st trimester, but your bump is going to be pretty sizeable before you know it! Make a fun album of weekly or biweekly photos with the help of some fun belly stickers for an awesome keepsake!
That's just about enough to help you through week 12! Check out our 2nd trimester survival guide for more tips, and if you want to get in-depth our week-by-week pregnancy guide is just what you need!