2nd Trimester Checklist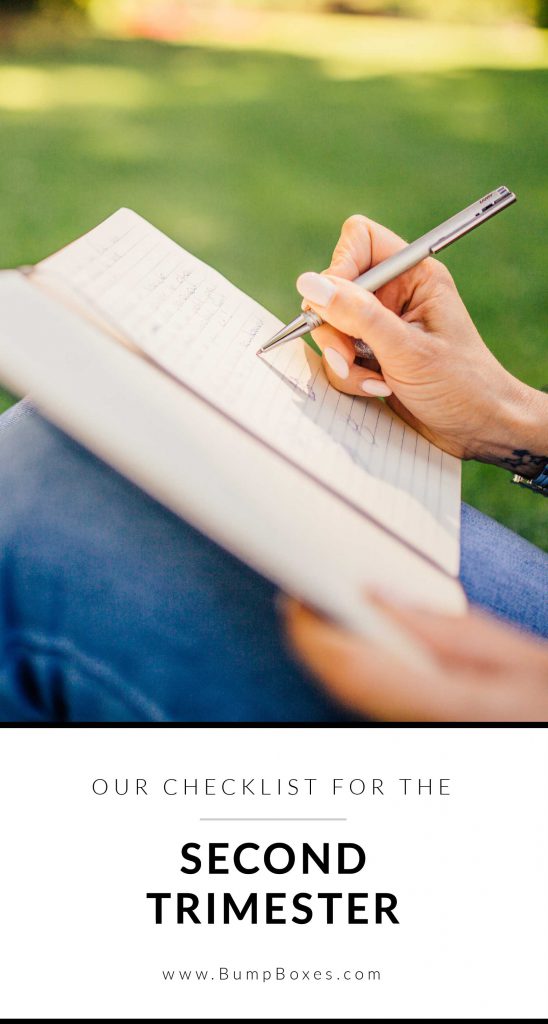 Your 2nd Trimester Survival Guide
You've finally made it to your 2nd trimester! Monstrous mood swings and morning sickness are on their way out; it's time to move into what many call the "golden period" of pregnancy! You'll find yourself with a lot more energy and positive vibes during the 2nd trimester, so let's put that to good use and knock all of your tasks out of the way!
Step 1: Eat your vegetables!
Your baby really eats what you eat. At this stage in utero, baby swallows about a cup of amniotic fluid daily. Tiny taste buds are developing at the same time. What does this mean? Researchers believe that babies prefer the tastes of certain foods if they were exposed to them in the womb. So eat your veggies now, and you'll have less of a headache later.
Step 2: Figure out your prenatal appointment dates
You can expect to have 10 to 15 appointments with your OB throughout your adventure. During your 2nd trimester, you'll probably be coming in every four weeks until week 36. At these appointments you will receive testing for your blood pressure, urine and weight. You'll even get your belly measured, and baby gets a heartbeat test! Even though the tests may be a tad off putting, these appointments are the perfect time to get all of your questions and concerns professionally dealt with. Keep a running list, and bring your partner along for an appointment or two!
Step 3: Start a baby name list
It's never too soon to start brainstorming, and with so many options you may feel like you couldn't have gotten started early enough! What will it be: traditional or modern? Historical, or after a favorite fictional character? Our tip: say the name out loud in context ("Stella would love a yellow nursery!"). You'd be surprised just how right certain names will feel!
Step 4: Decision time! Do you want to find out the gender of your baby?
There are plenty of good reasons both for and against learning baby's gender before birth. On one hand, it's easier to imagine and make plans with a mental image of a little boy or girl. On the other hand, not finding out provides a haven from a lot of gender stereotypes (for those of you sick of the "pink or blue" mentality), and provides the surprise of a lifetime. Either way, at your standard ultrasound or amniocentesis appointment, let your practitioner know your decision!  Also, coming up with creative gender reveals to let families and friends know is so exciting!
Step 5: Plan a babymoon
In your 2nd trimester, you will enjoy a break from fatigue and freedom from morning sickness. In fact, many moms say they feel like they have more energy at this time than they ever have! Why not use this extra boost to plan a lovely trip with your partner as a way to celebrate this incredible time in your lives? You may not have many chances to get away from it all after this trimester, so grab ahold of this opportunity while you can!
Step 6: Think about a birth partner
Of course, many women instantly think of their partner when they imagine who's helping them through the trials of labor. There's also the option of bringing your mother, best friend, or a doula to offer support that will take you through the big event. See how many people your birthing location will accommodate (hospitals often have restrictions), and think about what would be best for your spirits.
Step 7: Prepare for the future
Be prepared for the future can definitely help ease the anxiety of new parents. There are a lot of unknowns that come with pregnancy. It's a sound strategy to purchase a will, update your 401k or retirement account beneficiaries, and prepare a will with inclusion of your new baby. This also means looking into childcare options and pediatricians for after baby's debut!
Step 8: Make a dentist's appointment
That's right, dental health doesn't ever take a break! Hormones have an effect on your gums, and it's a good idea to have at least one checkup to make sure there are no issues. Smile on, mom!
Step 9: Start registering for your baby shower!
Here's a fun one! Baby showers are not only a great way to connect with a bunch of your awesome friends and family members, but they're also your ticket to a ton of great baby items! A bunch of websites and retailers offer apps and services to create a killer registry. Have fun!
That should be what you need to get you through your 2nd trimester and onto the 3rd! Are you ready for the final push? Be sure to look at your final steps in our 3rd Trimester Guide, and if you want a more in-depth look at symptoms, baby growth and more, head to our week-by-week pregnancy guide!
Join over 100,000+ expecting mama each month!