7 Best Baby Strollers of 2019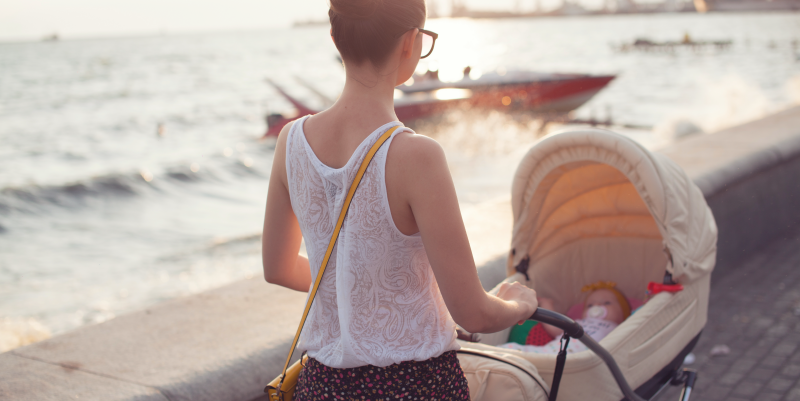 There are multiple things to consider when shopping for a baby stroller. For one, your baby may spend a lot of time in it. So anything that makes getting kids around easier is a welcome purchase for most new parents. You'll want to also factor in safety, price, the overall size and weight, how it maneuvers, is it easy to travel with, accessories, etc. And while there's a seemingly endless number of products to choose from, we've taken the guesswork out of the options and have done the research for you. The following are the top baby stroller picks for this year, based on the overall features and what moms love about them. Here are the 7 best baby strollers of 2019.
Best Overall Value: UPPAbaby Vista Stroller
When doing your research for the best baby strollers, the UPPABaby brand no doubt pops up as a top option. And price tag aside, it's worth every penny. This stroller will take you from newborn well into the toddler years (or 50 lbs.) making it a smart investment that will be with your family for the long haul. Plus, as your family grows, the stroller grows with you! It comes with a compatible bassinet, toddler seat, rain and bug shields, adjustable canopy, leather-lined handlebar, a kick board for toddlers to ride along on and more.
What Moms Love
The UPPABaby Vista can be configured to hold up to three – THREE – children!
Reviewers also said they love that this stroller handles bumps easily
Ability to change the infant and toddler seats to front or back facing
Comes with a 3-year warranty

Storage component can hold up to 30 pounds of stuff.
Consider this
Higher cost than other models
Does not fold easily and can take up quite a bit of space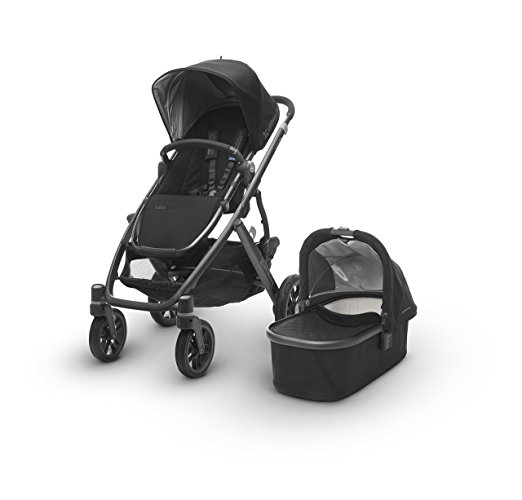 Best Lightweight: Baby Jogger City Mini GT Single Stroller
If you're looking for one of the best lightweight strollers that can be collapsed down and taken everywhere, the Baby Jogger City Mini GT Single Stroller is a top pick. City dwellers love that it's easy to maneuver, fold and unfold. Plus, it's great for strolling down busy streets with all-terrain wheels, an adjustable handlebar and hand-operated brake.
What Moms Love
Easiest stroller to close and store in small spaces
Near flat recline of the seat is perfect for napping
Can accommodate children up to 45 pounds
Lightweight enough to carry upstairs when folded
Collapses down into a backpack style tote bag and even meets airline requirements for carry-on luggage
Consider this
Smaller than most strollers
Snack tray and cup holder sold separately
Not actually intended for jogging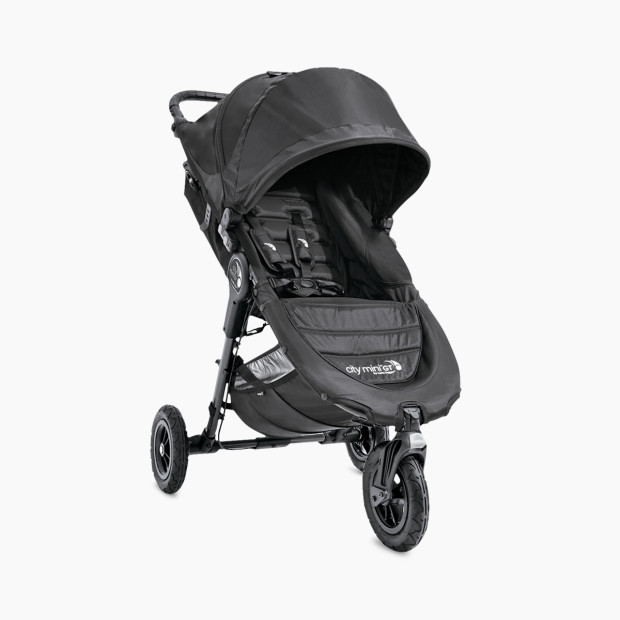 Best All-Terrain Ride: BOB Revolution PRO Stroller
Families who like to be outside can hit the trails, beach, hills, etc. with the BOB Revolution PRO Stroller. The three large tires feature a lockable front wheel, which gives you increased flexibility for going around corners or jogging at a fast pace. The revolutionary suspension system means your baby is along for a smooth ride no matter the terrain. Nine adjustable handlebar options means this stroller can be customized to fit any user.
What Moms Love
Great for jogging and the shocks keep babies safe
Can be folded in two steps
Holds a child up to 75 pounds
Glides along smoothly on most surfaces
Consider this
Not as practical for running errands or navigating small spaces
Takes up some room in your car
Seat is not totally upright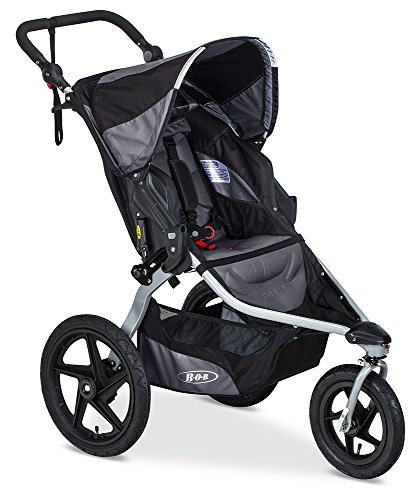 Best for Jogging: Thule Urban Glide 2.0 Jogging Stroller
Parents who enjoy running can appreciate the versatility of the Thule Urban Glide 2.0 Jogging Stroller. This stroller is lighter than most, and can handle different types of terrain, all with less bulk than other models. Other features include a reclining seat, storage component with zippered covers, opens/closes with one hand and has the ability to adapt for most infant car seats.
What Moms Love
Perfect for jogging AND everyday use thanks to lightweight design and compact fold
Swivel front wheel makes for easy maneuvering; locks into place for jogging
Rear-suspension system keeps babies safe and snug
Consider this
Narrower than other strollers and joggers, large children may outgrow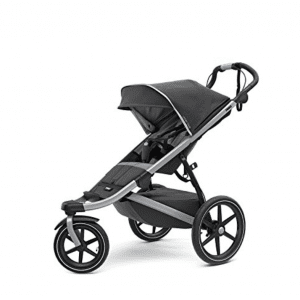 Best Travel System: Chicco Bravo Trio Travel System
For one of the best baby strollers and all-in-one travel system, the Chicco Bravo Trio Travel System needs to be on your radar. You'll snag a stroller and the KeyFit 30 infant car seat for easy transfers from car to stroller. The infant carrier can be attached to the stroller seat making the versatility of this stroller a dream for parents on the go. Plus, the canopies on both items meet and overlap for the ultimate cozy cocoon for napping.
What Moms Love
Multiple seat positions for growing babies
Convenient versatility from car to stroller without needing to wake baby
Consider this
Heavier than other models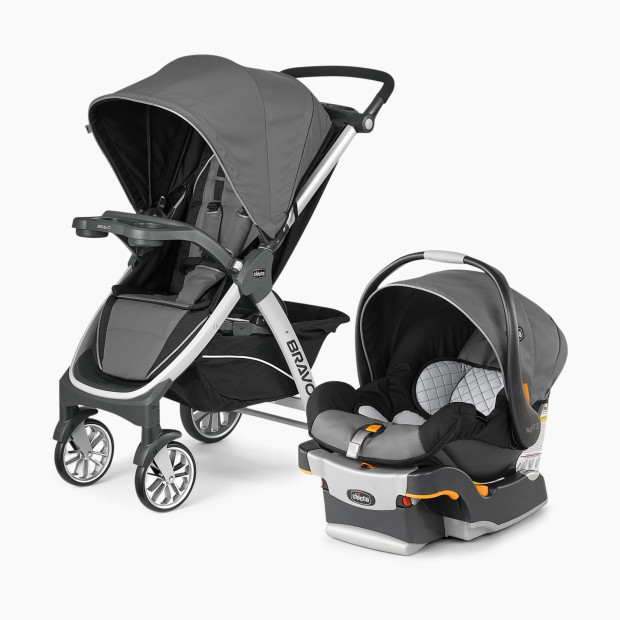 Best Functional Favorite: Graco Modes Travel System
The Graco Modes Travel System is the ultimate in convenience. You'll get a great car seat and stroller all at an affordable price. Seamlessly transition from the car to the stroller with one click. Parents who purchased the Graco Modes love the reversible stroller seat that has 10 riding options, the tray for snacks or cups and the storage tray for miscellaneous items.
What Moms Love
One click versatility to go from carrier to walking
Affordable and includes tons of features
Maneuvers well on different types of terrain
Consider this
Takes up more space than others
Plastic wheels can wear out
Feels a little more bulky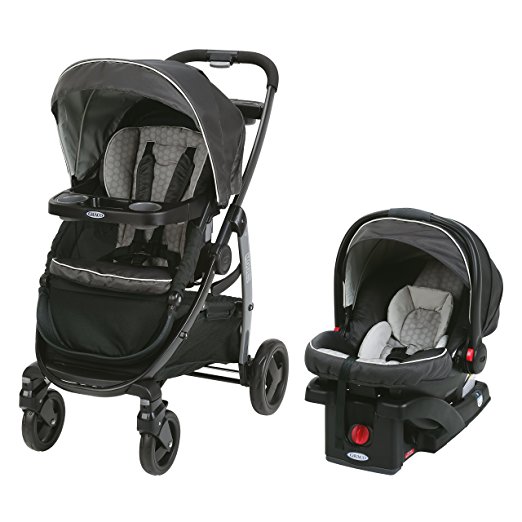 Best Double Stroller: Joovy Scooter X2 Double Stroller
If you're currently expecting your second baby, then a double stroller is what you really need. The Joovy Scooter X2 Double Stroller can hold two children, or 90 pounds total. You'll love the functionality of this stroller as each seat and footrest can be individually adjusted to fit each child's needs. The 30" width means that even with it being a double stroller, you can still squeeze through many tight spaces.
What Moms Love
Huge basket and canopy with peek-a-boo window
Large wheels have parking brakes
Cup holders and zippered pouches for ample storage
Consider this
At 32 pounds, it weighs more than most strollers
Because of the two-seat nature, it's not as easy to move around
Does not handle bumps as well as other models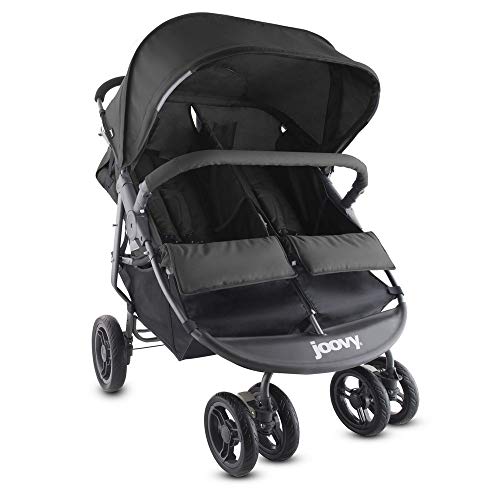 Join the other 1,000,000+ expecting mamas who love Bump Boxes.

---
Items of the Day

What stroller is best for newborn?
Strollers for newborns must recline. Therefore, the stroller options for newborns are those with an attachment for an infant-only car seat or bassinet.
What is the best stroller 2019?
The best baby stroller meets safety standards and fits with your life and overall stroller needs. Strollers for jogging, storage and multiple children are all possibilities. Here are a few of the best strollers for 2019:
• UPPAbaby Vista
• Baby Jogger City Mini GT2
• Britax B-Lively Stroller
• Bumbleride Indie Stroller
• Graco Modes Click Connect Stroller
• BOB Revolution Flex
• Chicco Bravo Trio Travel System
• Bugaboo Bee5
• Babyzen YOYO+6+ Stroller
• Nuna 2019 Mixx Stroller
• GB Pockit
• Joovy Scooter X2 Double Stroller
• Baby Jogger City Tour LUX
• Thule Urban Glide 2 Jogging Stroller
• Summer Infant 3Dlite Convenience Stroller
What are the best stroller brands?
Several stroller brands are available, offering a range of price and function. From joggers to compact to double-strollers, here are a few of the best stroller brands:
• UPPAbaby
• Baby Jogger
• Ergobaby
• BabyZen
• Britax
• Bugaboo
• Bumbleride
• Chicco
• BOB Strollers
• Thule
Are 3 or 4 wheel strollers better?
A newborn can be placed in a stroller, but it must be a recline-only stroller. Recline stroller options include a structure that allows for an infant-only car seat or bassinette to be attached.
Can you put a newborn in a stroller?
A newborn can be placed in a stroller, but it must be a recline-only stroller. Recline stroller options include a structure that allows for an infant-only car seat or bassinette to be attached.