7 New Mom Beauty Tips and Tricks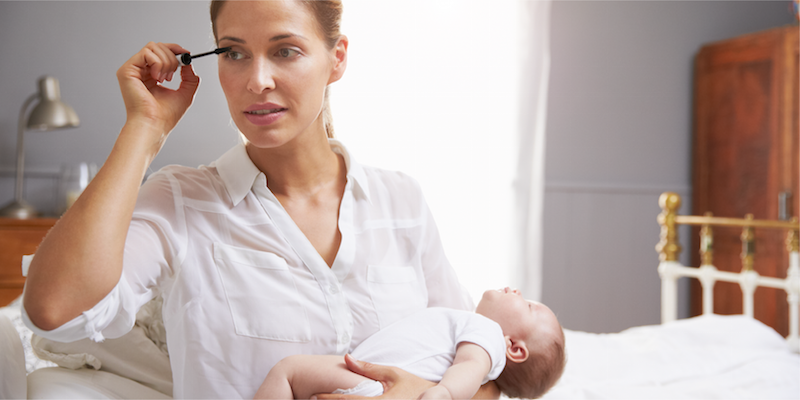 You're a mom now! Which means your life consists of feeding your baby, bursts of sleep, changing a diaper and then repeat many times in a 24-hour time frame. With all of those dirty diapers and late-night feedings, it's hard to have time for a beauty routine. But that doesn't mean you need to completely stop taking care of yourself; it just means you don't have as much time as you used to. These new mom beauty tips and tricks can help you master a multi-tasking routine. The best part? They can all be done in 10 minutes or less!
Beauty tip #1: Skip the foundation and use a tinted moisturizer instead
Mommyhood means less time for a full-blown makeup routine. Rather than use a foundation, try a tinted moisturizer with SPF (try for 30+) instead. It will moisturize your skin and cover up uneven spots or dark circles. Plus, the SPF protects against sun damage. You can keep the mom glow going with a dewy finish or a matte finish that gives you a powdery look. A tinted moisturizer is a good go-between for your new mom lewk; more than makeup-free but not quite as much as a full face of foundation.
Beauty tip #2: Wake up your sleepy eyes
If you feel like you haven't slept in ages, you probably haven't. Give your sleepy eyes a major wake-up with a swipe of mascara. There's no way you have time for doing a complicated smokey eye look, but you can take a hot minute for some mascara. It takes only a few minutes but can do wonders for your overall look. If you want to up the drama factor, choose a curling mascara.
Beauty tip #3: Achieve easy beach waves (we do mean easy!)
You're a mom now which means you're already a multitasking ninja. But having time to wash and curl your hair is likely out of the question. Braid your damp hair before bedtime and wake up in the morning and shake out the loose waves. Tip: the tighter you braid your hair, the more defined waves you'll have when it dries. New look, who dis? Messy bun be gone!
Beauty tip #4: Use baby wipes for more than just the baby!
Baby wipes can be used on more than just your baby's tush. Since the wipes are typically dye-free, fragrance-free and organic, they can be used as a makeup remover. When you're able to wear makeup, the wipes can help you to take it off. And they double as a face wash if you've just spent the day with baby and have a days' worth of slobber, baby food and other goo on your face.
Beauty tip #5: Dry shampoo is a must-have item
Not washing your hair every day used to mean dealing with a head full of an oily mess. Now there's a solution. If you're short on time (standard for every new mom) and can't get into the shower to suds up your locks, dry shampoo is a must-have item in your bathroom cabinet. Spray the dry shampoo all over your scalp, which helps to soak up excess oil and leave your hair smelling fresh.
Beauty tip #6: Keep a stash of lip balm all over the house
Take much-needed baby steps back into your pre-baby makeup routine. If a bold lip feels like too much, use a tinted lip balm instead. It doubles as a moisturizer for your lips and gives you a little bit of life back to your dull, tired face. Since a lip balm takes up minimal space, stash them all over the house, in the diaper bag and one in the car. Your lips will refrain from being colorless and chapped. Take care of your lips now and perfect your pout later when you're ready for your regular lip colors.
Beauty tip #7: Save money and try a DIY baby food facial
Is your baby eating solids now? And is it getting all over you too? Believe it or not, that's a good thing! Many of the ingredients in baby food, like avocados, bananas and oats, are also found in popular facial masks you find at beauty stores. Why not mix up some of the extra food to slather all over your face for a DIY facial? You'll save money and give your skin much-needed nutrients.

As a mom, you deserve credit for getting a whole lotta things done in one day. Don't let a complicated makeup routine stop you from feeling your best. These new mom beauty tips and tricks will help you feel like the best version of yourself – for you and your baby!
Join the other 1,000,000+ expecting mamas who love Bump Boxes.