Baby Registries: Our Top Picks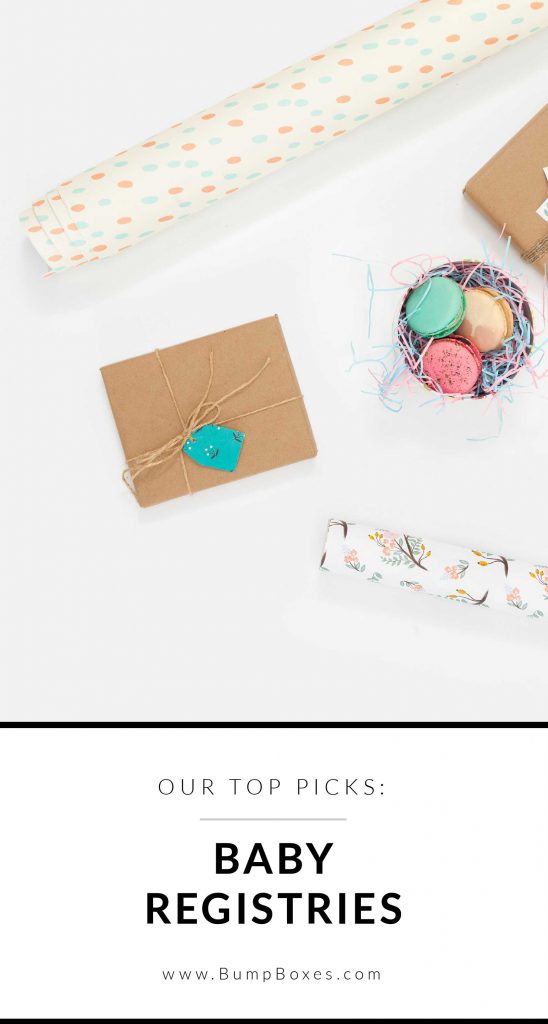 Choosing between baby registries can be both exciting and confusing!  There are so many options, and they all offer so many different features–what's a mama to do?  Luckily for you, we've done all the digging for you and have compiled a list of our top picks for baby registries — including pros and cons of each!

The Good:  Amazon is one of our absolute favorites here at Bump Boxes!  They offer the largest selection of natural and organic products of all the baby registries listed, offer a 10% registry completion discount (15% for Amazon Prime members!), and a 90 day return window on all purchases.  They also offer free shipping on certain items or on totals over $25, and will send you a free Welcome Box just for registering!  Additionally, you can manage your registry at any time with their mobile app!
The Bad:  The completion discount is only eligible for those items on your registry sold and shipped by Amazon–this excludes all 3rd party items!  These can be hard to notice.  As an online store, Amazon lacks the "in-store assistance" that other registries offer, and an online-only registry can alienate some older family members.

The Good:  Target offers a 15% completion discount on all items left on your registry 8 weeks before baby is due, and accept returns and exchanges up to one year from your estimated due date
!  They offer that "in-store assistance" mentioned above, and have a large amount of locations nation-wide, making a registry at Target convenience for everyone!  They also offer a Welcome Kit for registering!
The Bad:  You can only register for items that Target carries, and they are still fairly limited on natural and organic product offerings.
The Good:  Buy Buy Baby is owned by Bed Bath and Beyond which means–you guessed it–you can enjoy those 20% off coupons on your registry!  They also offer a very comprehensive selection of items, and come with an app for convenient on-the-go management!
The Bad:  Unfortunately, Buy Buy Baby does have a limited amount of locations, so it can cut down on that convenience factor for family and friends.  They also aren't very competitive with pricing, which can be a big downfall.
The Good:  Babylist is great because you can add any item from any store to your registry!  Think of it as a baby registry version of Pinterest!  We love that you can even add "help" and "favor" coupons to your registry–good for a night of babysitting, a home-cooked meal, or even if anyone has baby clothes they'd like to hand down!  They have an app for on-the-go management, and at about 60 days before your due date, they'll send you an offer for 10% off the completion of your registry!
The Bad:  The completion discount offered only applies to Babylist items–it isn't valid on anything you may have added from another site or store.  They also are similar to Amazon in that they do not have any physical locations, which can make it difficult for some friends and family.
Mamas, it's hard to go wrong when picking a registry–it's good to see all the pros and cons of each one, but make sure you have fun creating yours!