Baby Registry "Essentials" You Don't Need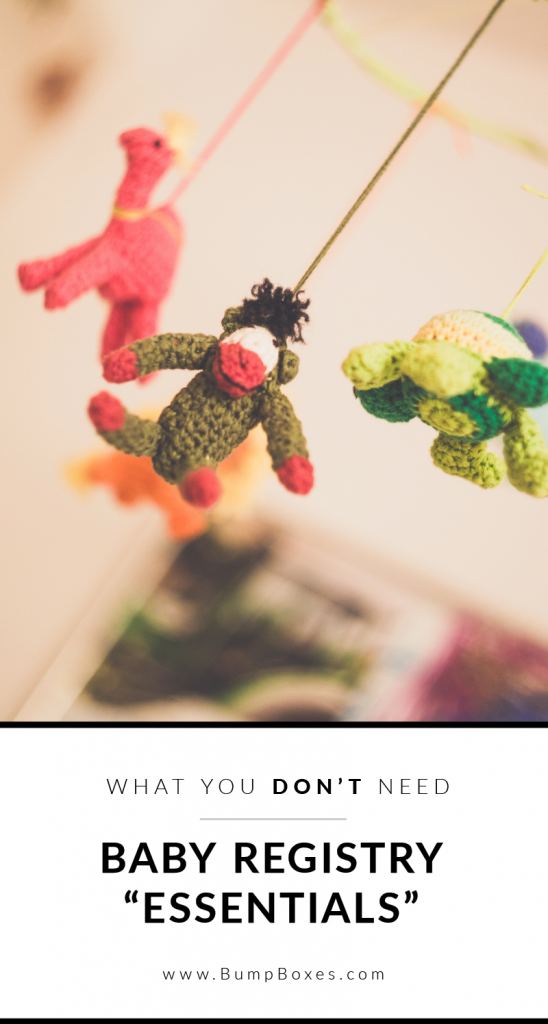 When shopping for your baby registry, the vast amount of baby products can get overwhelming!  There are so many life-saving products for when you bring baby home that it can be easy to add a million and one things to that registry list!  There are plenty of resources out there to provide you with the registry essentials for planning for baby–but what about the things you can skip on?  We're breaking down the baby registry "essentials" you really don't need, mama!
What to Go Without:
Baby shoes:  Baby shoes are adorable!  It's hard not to squeal in excitement when seeing the tiny size of shoes for your little one!  But it's time to get real, mama–baby won't be walking, and likely won't be willing to wear them at all!  While they're cute to look at, they're definitely something you can save some space on your registry (and your home!) with.
Toys:  Trust us when we say that you do not need to register or even purchase baby toys!  Once baby is born, every time someone visits, they'll bring baby a great new toy, or sweet animal to cuddle!  Before you know it, you'll be up to your eyeballs in baby toys!  Save this one for doting friends and family.
Bedding:  Of COURSE you need bedding for baby, mama!  But with muslin blankets, fluffy blankets, swaddles, quilts, crib sheets and skirts, and crib pads, you can get overwhelmed quickly!  Stick to the basics, mama, and avoid all the frilly extras–you'll be grateful you did!
Wipe Warmers:  We promise baby will be okay without a wipe warmer–if you're worried that baby will catch a chill, you can easily warm a wipe between your hands!  This will save you the money, or allow friends and family to get something you do need, like wipes themselves!
Mittens:  While mittens do a wonderful job of protecting baby's sweet skin from sharp nails, they prevent baby from vitally communicating with you!  One of baby's very first hunger cues is their open or closed fists (tight fists indicate discomfort/hunger, while open palms suggest baby is calm, satisfied, and full).  Keeping a pair on hand for safety can be worthwhile, but you definitely don't need many!
Changing Table: This one might come as a shock, mama!  If you have the money and (real!) space on your registry, go ahead with your fancy changing table!  However, with all the other necessities, it can help to leave this pricey item off!  Instead, opt for a nursery organizer, and any flat space with a blanket can act as your changing table!
A baby registry can be so much fun to put together, but can get overwhelming fast!  A little bit of research can go a long way in helping you find the items that are the best for you and your family!  Eliminating some of the fluff listed above can certainly help narrow your search!  And remember, mamas, don't forget to treat yourself!