Diaper Bag Swag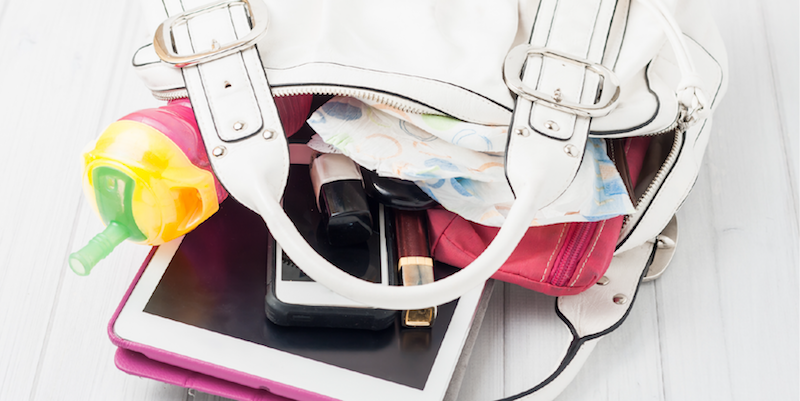 I'll never forget in high school when a classmate told me my purse looked like a diaper bag. I was beyond insulted and so was my apparently not-so-chic beat up Kate Spade satchel. Before I went all Mean Girls on her, I thought about why that was so "offensive" to me. I had never particularly paid much attention to diaper bags when I came across them. I had no beef with them. My knowledge was limited- I knew they held diapers and probably baby bottles- but it was their ingrained reputation as being an insult to me that lingered. I knew I wasn't the only one who had a negative opinion about diaper bags for really no reason at all.
It wasn't until several years later when I became pregnant that I noticed a dramatic shift in my position on diaper bags. About 6 months into my pregnancy I decided to dedicate an entire day to finding the right diaper bag. My desire to look cute didn't waver over the years but I also needed something that would be capable of holding everything in a somewhat organized manner. I won't lie mamas, I went into the situation not particularly optimistic. To my surprise, I left the mall a very happy camper after only an hour. I would have been out after 20 minutes but I was going back and forth between two options with a sales associate. Oh, and I stopped for cupcakes a few stores over.
Diaper bags play a critical role in all of our upbringings and for that we owe them respect! Diaper bags come in all shapes, sizes, and styles-many of which are super cute AND practical. So everyone with a negative opinion of diaper bags needs to change their mental diaper ASAP. We've included some of our staff faves and adorable online finds below to officially convince the masses. Time to prove everyone wrong mamas!
Proof awesome diaper bags exist:
1.) Kate Spade Watson Lane Stevie Baby Bag – $398  (Yes, of course I'm going to lead this list with a Kate Spade bag.)
2.) Freshly Picked Convertible Diaper Backpack – $175  (Cute, functional, and super easy to carry!)
3.) MonoBeach Travel Diaper Bag – $28.99  (Two words: Thirteen. Compartments.)
4.) Multifunctional Diaper Bag Backpack – $79.99  (We are LOVING this gold lining!)
5.)  SkipHop Greenwich Simply Chic Diaper Backpack – $99.99  (Talk about chic, Mama!)
6.)  Pottery Barn Kids Petunia Picklebottom Intermix Backpack – $129  (Mamas, this is the CUTEST diaper bag!)