Everything You Need to Know About Traveling With a Baby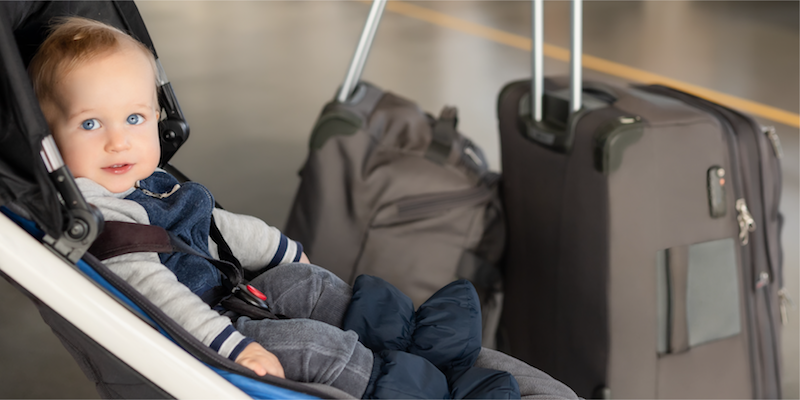 You now know that everything in your life completely changed the minute you had a baby. And here's a secret: when you travel everything is now different too! Even though having a baby is a game changer and your trips will never be the same, it doesn't mean that planning to travel with a baby needs to be stressful. Traveling with a baby is not as scary as it sounds, but it does require extra planning. Here's your complete guide to traveling with a baby.
Traveling with a Baby: Before the Trip
Check with your pediatrician! Depending on where you're traveling with your baby, you'll want to make sure that you've consulted with your pediatrician. Your child may need to have certain vaccines earlier or to take a particular medicine. Some countries require extra immunizations and it's best to know this well before you're set to depart.
Traveling with a Baby: What to Pack
You'll probably find that two things happen when you begin packing for your trip. One, you'll pack way more for the baby than you do for yourself. And two, most of it you won't need. But better to be safe than sorry. Here's an overview of what you may want to consider:

Full-sized suitcase: If you're checking a full-sized suitcase for your trip, you'll want to include clothes, extra diapers, things your baby will sleep on and any extra gear that you don't need immediate access to while you're en route.

Carry-on suitcase: Chances are you may not need items in this during your flights but in case your luggage gets lost, pack things in here you'll need in an emergency. Items may include: outfit changes for you and baby, breast pump accessories if you're breastfeeding, toiletries, extra diapers and wipes. This is the piece of luggage to carry all of your essentials in.

Stroller and car seat: If you didn't already know this, most airlines allow you to check baby items for free, so it may be wise to bring both the stroller and the car seat. Some stroller systems include a nice travel bag for transporting the stroller, car seat and base all in one, which makes traveling a breeze. With some models, you can also purchase travel bags that protect your gear from any damage. Before choosing to check or gate-check your stroller, consider whether you'll have long layovers or a reason to need the extra gear before you land.
Traveling with a Baby: Maneuvering Through the Airport
Before you even purchase your plane tickets, be sure to check mark that you'll be carrying an infant in your arms. It will be marked on your boarding pass that you'll have an infant on your lap. As for the baby, chances are you won't need anything like a birth certificate or social security card but you may want to have them just in case. Each flight may be different but in some cases you may get an actual boarding pass for the baby.

When you research what may happen as you're going through TSA, be prepared for conflicting information as for what they may have you do. The best thing to do is wear your baby in a wrap so she's secure and you can keep your hands free for going through TSA. Best case scenario is you'll walk through the metal detector with your baby strapped to your chest without needing to be checked any further.
You can also send your breast milk through security without problems as you're allowed to bring any amount you need. Your pump may get flagged in your carry-on but just as a precaution, not because you aren't allowed to have it through security. Wearing your baby is the best option because you can seamlessly get through checking in, security and to the plane with your hands free. It also keeps your hands free if you wear the baby again once you deplane and grab your luggage.
Traveling with a Baby: On the Plane
The nice thing about traveling with a baby is that you're allowed to board early. This gives you time to get to your seat, sanitize everything in sight and get situated for the flight ahead. Make sure that when you get to your seat, keep all the things you'll need for the flight nearby and within easy reach for the baby. Things to consider include: diapers, wipes, swaddle blanket, a change of clothes, pacifier and hand sanitizer.

While you're in flight, try to time your feedings for when you're taking off and about to land as this will help your little one's ears get adjusted to the change in pressure. Pack an extra sweater if you need some bulk to comfortably nurse your baby. And keep an extra bottle nearby in case you can't nurse, or need to pass the baby over to your partner during any part of the flight. If you do need to change the baby there is a fold-down table in most lavatories, or consider packing a changing pad in your carry-on just in case you need it.
Traveling with a Baby: Final Thoughts
Once your plane touches down, you've been through the "worst" of the journey and you still made it! Even though with a baby you pack way more than you normally would, therefore have so much more to grab at baggage claim, that's what the luggage carts are for. Call ahead at the hotel or condo you'll be staying in to see if they have any baby gear you can rent or use (like a pack and play, for example). Standard rental companies carry a lot of baby items as well if you get to your destination and realize you forgot an important accessory to the baby's everyday routine.

Traveling with a baby does bring unique challenges, but everything is worth figuring out in the end. Your baby may surprise you and snooze through the whole ordeal meaning you worried about all of it for nothing. Give yourself extra time and preparation and you'll be glad you took the baby along. Just think, the next trip will be a piece of cake!
Join the other 1,000,000+ expecting mamas who love Bump Boxes.