Fall Maternity Fashion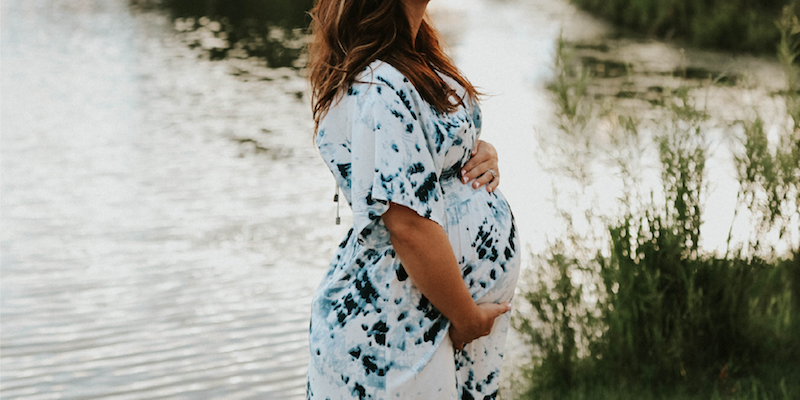 As the air starts cooling and leaves start changing, it can start to feel like it's time for a wardrobe refresh!  Fall is one of the best times for pregnancy with the cooler temps, cozy layers, and delicious treats — so why shouldn't you enjoy every bit of it?  We're rounding up some of our favorite fall pregnancy fashion trends so you can look (and feel!) your best this season!
Cozy
We love this mama's poncho outfit!  Loose layers combined with tighter leggings or slacks makes for a balanced outfit and polished look!  The soft poncho is sure to keep you warm, and can be taken off easily in case of a heat flash.  See full outfit details here.
Overalls are in this season, mamas!  Tuck any adorable tee (we are loving these stripes!) into your overalls, and you have an instant look!  We love the way she paired the cozy cardigan and adorable hat to complete the outfit.  You can check out her full post here!
This mama's sweet Boho look is giving us all the fall feels!  With her flowy cream top and adorable tasseled scarf layered over skinny jeans, she's created the perfect summer to fall transition outfit.  You're sure to feel comfy and stylish in this cute outfit!  Check it out here.
Dressed Up
This adorable maxi is the perfect fall date night outfit!  Simply add accessories like tassel earrings and a cute bag, and you're ready to hit the town, Mama!  You can check out all of her outfit details here.
This mama is nailing the maternity dress outfit!  With a slimming silhouette that hugs your sweet bump, this dress will be a fall knockout!  We just love the way she paired it with a dark hat and booties for a pop of drama and edge!  Snag the outfit here.
Casual
We can't get enough of the fun stripes trend!  With an air of Parisian style mixed with casual street style vibes, a simple striped tee over leggings is always a good call!  We love the way she's paired it with sneakers for extra comfort.  Check out the details here!
We just love a good camel blazer, and this mama nailed it!  Opt for a tailored look paired with jeans and booties to combine office-wear with casual-wear for the perfect happy hour (of mocktails!) outfit.  Check out all of the outfit deets here.