Healthy Recipes for Summer Barbecues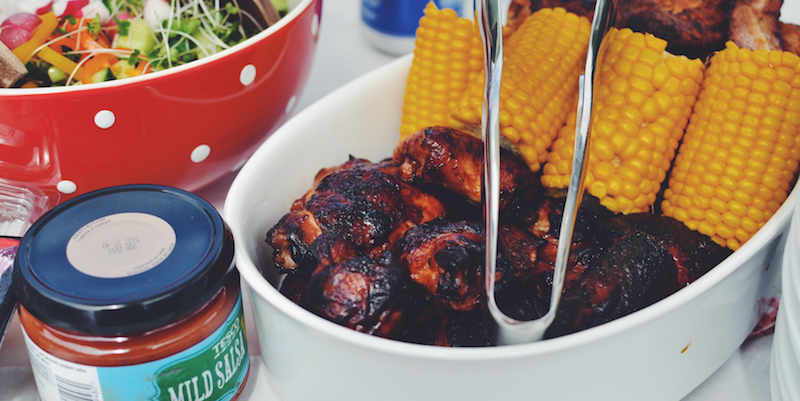 Mama's, it's getting hot out there!  And what better way to soak up the warm sunshine than with a barbecue?  We're on the blog today to round up some of our fave (and somewhat healthy) barbecue side dishes, so you can enjoy every invite that comes your way this summer!
Cucumber Watermelon Feta Salad
Refreshing, cool, and delicious!  We couldn't ask more from a barbecue side dish.  With some quick slicing and dicing, you have a beautiful summer salad to feed a whole crew!  Trust us, mamas, this is sure to become a summer staple!  You can find the full recipe here.
Roasted Sweet Potato Skewers with Cilantro-Jalapeno Aioli Dip
We don't know about you, mamas, but we LOVE sweet potatoes here at Bump Boxes!  And roasted is one of the best (and easiest!) ways to enjoy them!  Simply roast, pop on some skewers, and dip in the delicious aioli dip–find the full instructions here!
The Best Fruit Dip Ever
Who doesn't love fruit and a delicious dip?  This recipe promises to be the best fruit dip ever, and we have to say, we don't disagree!  Made with 3 simple ingredients, it's tasty and easy to whip together!  Find it here.
Cucumber Red Onion Salad
If you love tart and tangy dishes, this salad was meant for you, mama!  The cucumbers and onions are soaked in dill and rice vinegar for a delicious punch–you'll be tempted to eat the entire bowl in one sitting!  Find the recipe here.
Summer Corn Avocado and Black Bean Salad
This dip is as addictive as it is healthy!  Give us some chips and a bowl of this, and we've got a full meal!  In all seriousness, mamas, this dish is so easy to throw together, and is sure to be a crowd pleaser!  Find the full ingredients and how-to here.
So there you have it, mamas!  A round up of some of our fave fast, easy, and delicious side dishes to take to every barbecue this summer!  We'd love to hear–what's your favorite cookout dish?