Holiday Gift Guide: The 12 Best Gifts for Your Pregnant Friend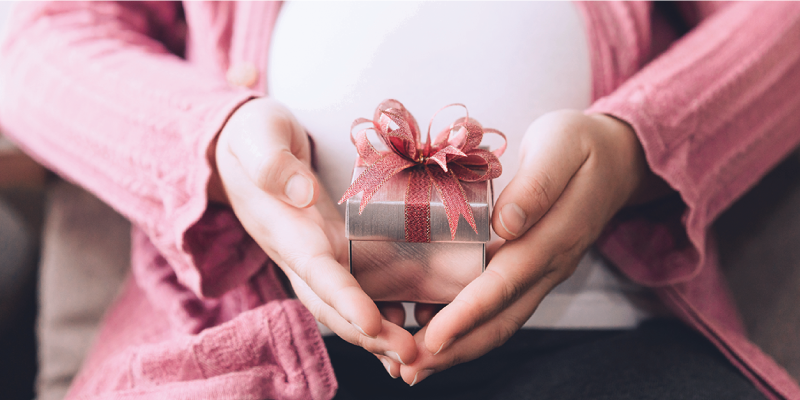 Is your best friend expecting her first baby? There are few things better than watching your best girlfriend become a mom. Which means you need to find her a gift that will really make her feel special and celebrated during such an exciting time in her life. The nine months can be a rollercoaster of emotions and uncomfortable pregnancy symptoms so look for gifts that are thoughtful, comforting and hilarious AF. These are the 12 best gifts to get your pregnant friend this holiday season.
Preggatinis: Mixology for the Mom-To-Be, $17.95
At every stage in her pregnancy, moms-to-be have the tendency to fantasize about when they can enjoy wine and cocktails again. And your pregnant friend is no exception! Preggatinis features lip-smacking, liquorless libations that will make her feel like she can stay in the social swing of things until delivery day.
Haute Mama Cosmetic Bag, $12.99
Hey, "haute" mama, we see you! This is the perfect accessory to hold all of your pregnant friend's personal care products and small baby essentials when she's on-the-go. The durable, easy-to-clean fabric is versatile, while the message will remind her of just how "haute" she is (#sorrynotsorry)!
"You're going to be a great MILF," Pregnancy Mug, $18.00
Hilarious saying? Check. Complimenting your friend? Check. This pregnancy mug has everything going for it, making it one of the best gifts for your pregnant friend. She'll chuckle every time she sees it and appreciate the lighthearted fun amidst crazy, pregnancy hormones.
Bump Boxes Gift Box, $49.99
Want to take the guesswork out of choosing and get her exactly what she needs at various stages of her pregnancy? Enter: Bump Boxes! These pregnancy survival boxes feature fun and healthy products tailored to her due date and handpicked by moms to help pregnant women sail through pregnancy. If you're looking for the perfect pregnancy gift box, this is it!
Letters to My Baby, $14.95
If your pregnant friend is a sentimental mama-to-be (who isn't??!), gift her something that she'll really treasure. Filled with twelve prompts, this book of letters invites new mothers to capture the fleeting moments of their babies' first years – and give them back in the years to come.

Pregnant AF T-Shirt, $17.50
All the kids are saying it and the new mom-to-be in your life needs this hilarious shirt that sums up her #mood in one line. The shirt comes in nine different colors and five different options for letter coloring for tons of extra personalization.

Ingrid & Isabel Mama Denim Jacket, $68.00
Is your pregnant friend a fashionista? She'll be dressed in style for the holidays with this Ingrid & Isabel denim jacket with the word "mama" dazzled across the back. As a bonus, there's a "babe" version of the same jacket if she wants the perfect #twinning moment.
Mambino Oh Baby Anti Stretch Body Oil, $16.00
Real talk: stretch marks are one of the least favorite pregnancy symptoms for expecting moms. Any personal care product that reduces the appearance of stretch marks is a mommy must-have in our book! Your pregnant friend will love the Oh Baby! Anti-Stretch Body Oil which helps prevent and minimize the appearance of stretch marks caused by pregnancy all while hydrating her itchy skin.
40ish Weeks: A Pregnancy Journal, $9.99
This charmingly illustrated journal is the perfect gift for your pregnant friend that offers a place to document details during the amazing whirlwind of pregnancy. She can capture every moment from the first reactions of being pregnant to meeting baby. 40ish Weeks is a unique keepsake journal that invites expectant mothers to reflect on the amusing and unforgettable moments.
"Mama had a rough day" Wine Tags, $5.00
Everyone has a rough day: including your expecting supermom BFF. Bring your best mama friend a bottle of wine for after delivery and enjoy it together with these hilarious wine tags. She'll appreciate the humor AND the time you'll spend commiserating together.

The Big Fat Activity Book for Pregnant People, $13.49
The ultimate must-have for any mom-to-be with a sense of humor: an irreverent, laugh-out-loud activity book filled with quizzes, mazes, fill-in-the-blanks, journaling pages, and hysterical musings on what pregnancy is really like. Christmas gifts for your pregnant friend don't get more perfect than this.

"Oh my God Becky, look at this bump," Workout Shirt, $15.00
Name one person who doesn't recognize these song lyrics! Your friend will love this hilarious and thoughtful gift she can wear loud and proud during her prenatal workouts. Comes in 13 different shirt colors for extra personalization.

Join the other 1,000,000+ expecting mamas who love Bump Boxes.

Suggested for you: