Holiday Gift Guide: Baby's First Christmas Gifts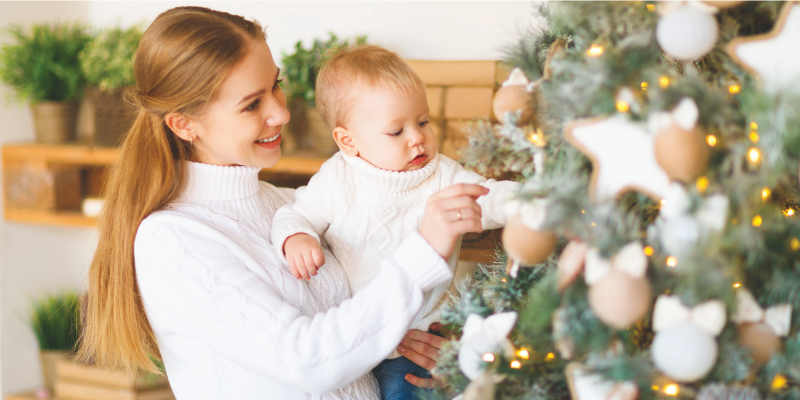 Is there anything more special than your baby's first Christmas? We'll wait. Celebrating your baby's first Christmas this year? It's time to celebrate! If you're looking for the perfect gifts to celebrate your little one's first Christmas then our baby's first Christmas gift guide will help. From clothing to sentimental gifts to personalized items, these adorable baby's first Christmas gifts will make the occasion extra special for the little angel on your list. Bet you can't look through this list without saying "Awww!"

Ingrid & Isabel Babe Denim Jacket, $68.00
Your little one will be dressed in style for the holidays with this Ingrid & Isabel denim jacket with the word "babe" dazzled across the back. As a bonus, there's a "mama" version of the same jacket if you want the perfect #twinning moment.
Sweet Baby Pink Owl First Five Years Memory Baby Book, $21.00
If this is your first baby, you'll want to make sure you document every memory, especially at Christmastime! This decorative memory book is perfect for recording memories and milestones of your baby's first five years.
The Belly Sticker Book, $11.95
This adorable book of belly stickers is a great way to capture and share all of your baby's firsts, from important holidays and milestones to month-by-month anniversaries and just-for-fun moments. Simply peel off the sticker that celebrates your baby's milestone and stick it to your baby's chest. Then snap an adorable photo and post online for everyone to ooh and aah over.
Pottery Barn Personalized Throw, $25.99
If your baby's name is already picked out, you can't go wrong with a personalized blanket as a great baby's first Christmas gift. This version from Pottery Barn is cozy yet lightweight and offers eight different colors to choose from.
Newborn Gift Box, $49.99
With the overwhelming number of items available, it can be difficult to find the right products for a new baby. You want high-quality products that are safe for newborns. Need the perfect newborn baby gift box? The newborn baby gift box, perfect for boys or girls, takes the guesswork out of choosing and delivers top-notch products new moms will love!
Personalized Bedtime Story Baby Gift, $34.95
Looking for another unique, personalized baby's first Christmas gift? This bedtime book Goodnight Little Me includes the baby's first and last name, birthdate, the year the book will be given and a dedication page with the sender's name.
Pearhead ID Bracelet Frame, $16.95
Display your little one's hospital I.D. bracelet with the Pearhead I.D. Bracelet Frame, which is a shadow box-style frame, that includes an acid-free beveled mat and silver backboard. It's a baby essential that makes for an excellent baby gift!
Join the other 1,000,000+ expecting mamas who love Bump Boxes.