Holiday Gift Guide: Budget-Friendly Gifts for Expecting Moms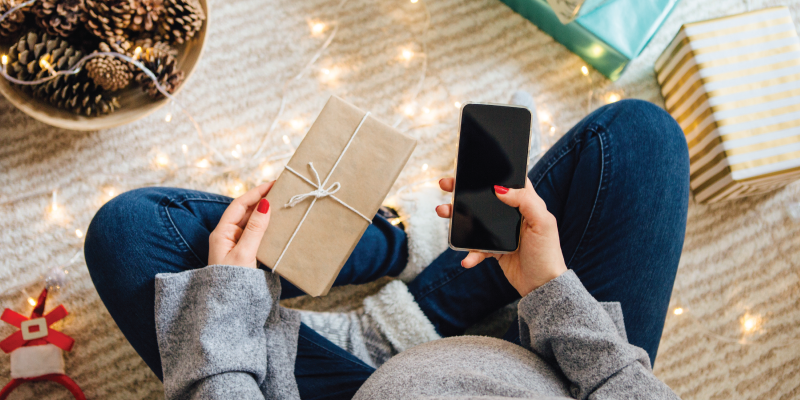 If the thought of buying a budget-friendly gift triggers nightmares of Black Friday sales and the time you got elbowed in the face for a toaster – a measly toaster – have no fear. Plenty of budget-friendly gifts for expecting moms are available without the drama of holiday sales, leaving you and your face safe. All of the items included in this guide are under $50, making your budget-friendly goal a reality. Whether you are looking for a practical, fun or sentimental gift, you can find an affordable gift an expecting mom will enjoy receiving.
Don't Eat Watermelon Seeds Maternity Shirt, $32
Pregnancy humor at its finest, expecting moms will love sporting this trendy t-shirt. Rather than choose that floral muumuu you have your eyes on, opt for a stylish piece of clothing that reminds her pregnancy is beautiful and chic.
PinkBlush Delivery/Nursing/Maternity Robe, $29-$36
A cozy robe for before, during and after delivery is a versatile and functional budget-friendly gift. And the lace trim adds a special something to a robe that a mama may live in for days. And days.
Bella B Tummy to Toes Cooling Leg and Foot Cream, $ 9.99
Nothing says pregnancy like the delight of swollen legs and feet, ugh. Expecting moms will enjoy the relief of the Bella B Tummy to Toes Cooling Leg and Foot Cream (bonus points if you offer her a foot massage in addition to the cream!).
BumpLife Sleep Mask "Napping for Two," $9.99
The soft satin feel of this mask can help an expecting mom drift off into much needed restful sleep. This is a useful budget-friendly gift for any soon-to-be mama who is experiencing the fatigue of growing a little human.
Personalised Watercolour Baby Ultrasound Scan Picture, $14.56
Designed to create a beautiful keepsake from an ultrasound, the expecting mom who receives this gift will love the thoughtfulness of the giver. Color options are available for this special and affordable present.
A massager with some serious kneading abilities, the Naipo Massage Pillow offers Shiatsu deep tissue massage to alleviate the sore muscles of pregnancy. Neck, foot, leg or back, this massager is easy-access relief for an expecting mom.
Glow Organics 9 Bath Bomb (Relieve), $6.99
The relieve bath bomb benefits both the mind and body with the help of vanilla, peppermint and tea tree organic essential oils. Help the expecting mom in your life feel the calming effects on stress, skin and sore muscles.
Harmony balls are a special type of pregnancy jewelry, with roots in Bali. Intended to promote calm, an expecting mom will savor the stunning look of the necklace that symbolizes tranquility.
BumpLife Inhale Exhale Socks, $13.99
Pregnancy and approaching mom-hood can create a lot of stress for a soon-to-be mama. These socks not only keep her toes cozy but remind her to keep breathing through the stress.
Baby Car Seat Cover Canopy and Nursing Cover Multi-Use 5-in-1, $24.95
This multi-functional cover moves seamlessly from car seat to nursing. Help clear the clutter in an expecting mom's life with this multitasking gift.

Join the other 1,000,000+ expecting mamas who love Bump Boxes.

Suggested for you: