Holiday Gift Guide: Top 10 Gifts for Your Expecting Wife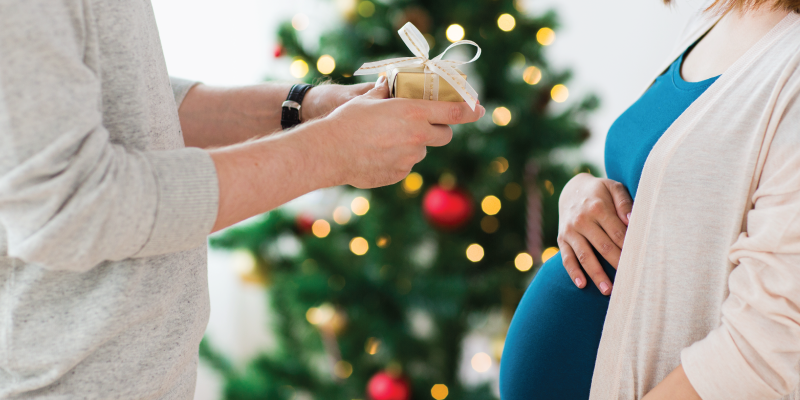 An array of gifts designed just for expecting moms means you have options that she'll appreciate and won't make you the regift next Christmas. And please, never ever gift your expecting wife with exercise equipment, a scale or other presents that suggest she needs to drop a few pounds! From the functional to the indulgent, these top 10 gifts for your expecting wife win for all the right reasons. As you make your holiday gift list, consider the items below to add a dash of jolly to your expecting wife's holiday. 
Land Mommy & Baby Bag, $39.99
Generous space of this diaper bag is only one of the perks your expecting wife will love. The hands-free structure of this bag is a lifesaver when mama needs both hands to clean up that legendary blowout.
The Bump Pregnancy Planner & Journal, Starting at $19.58
This gift will warm the heart of your expecting wife as she writes down the important parts of pregnancy that she (and you) will want to remember forever. Compartments allow space for important pictures or documents, making this an all-in-one planner. 
Glow Organics 9 Bath Bomb Set, $19.99
This set includes a bath bomb for relaxation, energy and relief—the trifecta for dealing with all the symptoms that make her go ugh! No need for your expecting wife to head to the spa—she can enjoy the natural and organic ingredients while soaking up the goodness in the comfort of home.

ZZZ Pal Pillow, $49.99
The ZZZ Pal Pillow is a top gift for your expecting wife that will last beyond pregnancy. Its multiple functions include neck support, as well as a pillow for nursing and all that baby cuddling. 

C.R. Gibson Green and Brown Turtle "Baby Days" Baby Memory Book for Newborns, $21.99
Look ahead to your baby's arrival with a memory book to document the special moments and developmental milestones. And although this guide is for expecting moms, you will appreciate this gift as much as your wife. 
Bump Boxes, $49.99
An easy win for an expecting mom, a Bump Box contains products curated based on pregnancy stage and needs. First, second or third trimester, Bump Boxes has you covered with useful goodies. If you're looking for the best gifts for your expecting wife, this is it!

Lululemon Go Getter Bag, $148
Expecting wives will appreciate this bag that is both trendy and easy to keep clean—baby spit up and other delightful bodily fluids don't stand a chance! A versatile bag, she can use it for baby items and her own must-haves, making life with baby a bit simpler.

Mama Mio The Tummy Rub Oil, $38
A product to help expecting moms cope with stretching skin, The Tummy Rub Oil is a safe option to help prevent stretch marks and lessen the itch that can accompany a growing bump.
Haute Mama Cosmetic Bag, $12.99
Do you have a "haute mom" you're shopping for? A cosmetic bag with a blend of fashion and function, the Haute Mama Cosmetic Bag is the ideal traveling space for haute-mom necessities.
Hatch-To-Hospital Box, $248
Forgo the stress of wondering what to pack in the hospital bag with these splurge-worthy gifts for your expecting wife. Organic bamboo clothing, including a nightgown, robe, underwear and matching socks will keep any newly-hatched mom comfy from head to toe.

Join the other 1,000,000+ expecting mamas who love Bump Boxes.