Holiday Mocktail Ideas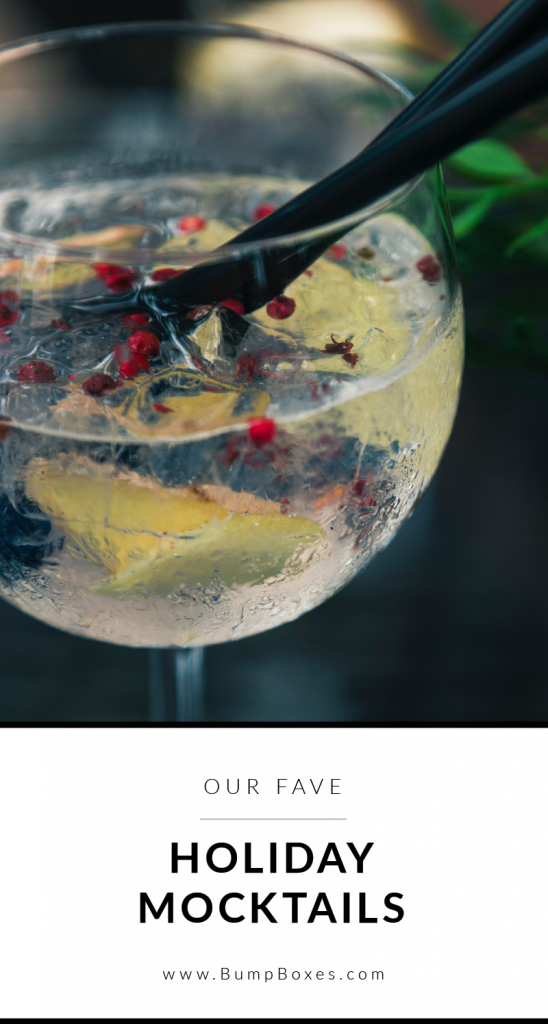 Tis the season for warm drinks, cold drinks, bubbly drinks, festive drinks!  This time of year, it seems you never find anyone without a full glass in their hands!  So why should you miss out while pregnant?  We've rounded up some fave non-alcoholic drinks for you to try so you can enjoy holiday festivities, too!

Cranberry "Mimosas" from Watch What U Eat
These cranberry "mimosas" from bloggers Watch What U Eat are sure to be an absolute hit at any holiday party!  We love that these are festive AND healthy–they're made using homemade cranberry juice!  Read the full recipe here!

Frost Bite Mocktail from The Little Kitchen
We can't tell what's cuter–this drink by The Little Kitchen or it's name!  The Frost Bite Mocktail is made using 6 easy ingredients and looks so decadent poured into a martini glass!  Even better?  You can have the bubbly taste of champagne without the alcohol!  See how they used Sierra Mist for mock champagne here!

Egg Nog Mocktail from the Stay at Home Chef
Is it even the holiday season without a cup of egg nog?  We didn't think so!  This classic recipe from The Stay at Home Chef will warm your heart and make sure you feel your most festive!  We love that it's homemade–bet you never pick it up at the store again!  Jump over here for the recipe!

Moscow Mule Mocktail from The Butter Half
We don't know about you mamas, but we LOVE Moscow Mules!  Such a fun, refreshing drink for anytime of year!  This mocktail recipe from The Butter Half is safe for pregnant mamas and kids, so everyone can enjoy a good Moscow Mule!  And there's something just SO festive about those copper cups!  Find the recipe here.
Cider Cranberry Punch from How Sweet Eats
Cranberries, and apples and fizzy cider, oh my!  This pretty mocktail from How Sweet Eats pairs beautifully with any holiday meal, and is so fun to drink!  Made with cranberry juice, apple cider, and ginger ale, it's fun for the whole family!  Find how to make it over here!