Hospital Bag Checklist: What You Need to Pack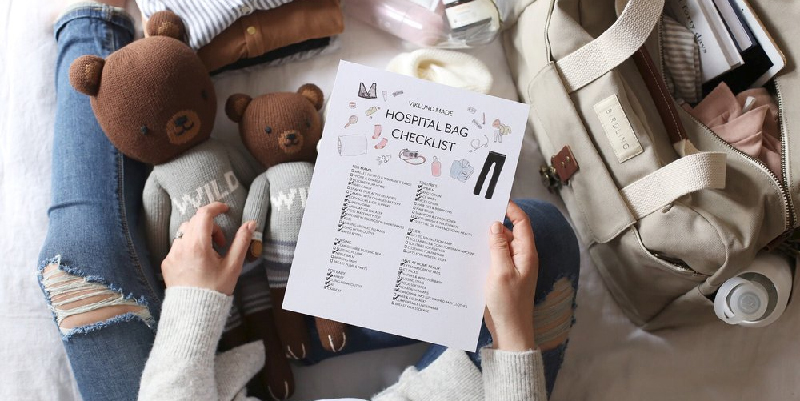 The big day is quickly approaching, are you set? Do you have your hospital bag prepared? Forgetting one of the most important third trimester to-do's can cause unnecessary stress if you find yourself contracting and trying to remember what to cram into your bag. Birth is unpredictable and your baby may arrive early, so it's best to have the hospital bag packed and ready to go by month eight (35 weeks). So where do you begin? You don't want to overdo it, since you're not actually moving into the hospital. But having the essentials is a must, and this hospital bag checklist can have you ready for baby in no time at all.
During Labor Bag
On average, you'll be spending one to two days in the hospital, and three to four if you deliver via C-section. Your length of stay is a good factor to consider when packing your bag. You may consider calling ahead to the hospital to know what they'll let you bring in (sometimes snacks are a no-go) and what they provide already. This can give you a head start on packing. You'll need these essentials when arriving to the hospital and while in labor.
Must-Haves:
Photo ID, insurance information, hospital forms and a birth plan if you have one

Eyeglasses (if you wear them, some C-section doctors require you remove contact lenses)

Cell phone and charger

Slippers or a couple of pairs of no-skid socks

Lip balm, heavy breathing during labor can cause your lips to become dry

Headband or ponytail holders

Toiletries and personal items: hairbrush, toothbrush, toothpaste, deodorant, face wash, shampoo, condition, lotion, contact lens case and solution

Loose, lightweight clothing

Bathrobe

Big water bottle with a straw, saves your partner several trips down to the drinking fountain

Snacks and drinks (if your hospital allows them)

Birth ball
Nice to Have:
Sugar-free sucker or lozenges (dry mouth is a thing, sugar can increase dryness)

Massage oil or lotion, if you'd like to be massaged during labor

Books, magazines or things to pass the time

Music, if you've visualized setting a serene mood or need a focal point during pushing

Heating pad

Extra pillows you're accustomed to

Your baby book for your baby's first footprints!
Postpartum Recovery Bag
After delivery, you can expect bleeding and other fluids to be a regular occurrence. The hospital will likely provide medically-necessary stuff like a peri bottle, over the counter pain medication, stool softeners, etc. Having the right type of clothing, however, can be a life saver during those first couple of days as a new mom.
Must-Haves:
Soft, comfortable nightgowns that are free-flowing and not restrictive

An open front shirt/gown for nursing

Maternity bras and nursing pads

Nipple cream

Heavy-duty maternity pads (the hospital should provide these but having softer, high absorbent ones is helpful)

Comfortable post-partum underwear that can be worn over the pads

Dark going-home clothing is recommended, six-month maternity or later sizing

Pregnancy and post-partum spray that can help with healing

If makeup is part of your routine and you plan to have pictures taken, bring your cosmetic items and hair products

Snacks and drinks, labor can be a very long process and you'll be extremely hungry
Nice to Have:
Nursing pillow

Breast pump

Nipple shields

Your own bath towel

Eye masks (his and hers)

If you don't plan to hire a birth photographer, you'll want to bring your own camera, batteries, charger, etc.
Husband/Partner Bag
Birth partners will also want to make sure their essentials are included. Everyday essentials are a no brainer, but you may not realize that these other items would also come in handy.
Snacks (did we mention that labor can be long and you'll not have many opportunities to eat?)

Pillow and blanket

Toiletries

A change of clothes

Comfortable shoes

Cell phone and charger (consider a longer cord)

Group text or list of people to call

Entertainment

Portable speaker

White noise for sleeping (nice to have)
Stuff for Baby
Before you even leave the hospital, you're required to have an approved car set and the base properly installed in your car. The hospital will supply you with almost everything you need for going home. Aside from having the right car seat to bring baby home, you'll need these items for your new little bundle of joy.
Coming-home outfit (needs to be seasonally appropriate)

Don't forget a hat, socks and/or booties

Warm blankets or swaddle

Onesies

Outdoor gear if needed

Pacifiers and burp cloths
---
Items of the Day
Trimester Gift Boxes
$49.99
---
Join the other 1,000,000+ expecting mamas who love Bump Boxes.

When should you pack your hospital bag?
It is recommended to have your hospital bag packed around 34 weeks, ideally no later than 37 or 38 weeks.
What should I pack in my hospital bag for labor?
The necessities to pack in your hospital bag are important for during and after labor. Your birth plan and other items intended to help you through labor, such as music or relaxation items are must haves, along with the following: 
• Necessary documents (health insurance, ID)
• Cell phone and charger
• Personal care items (e.g., lip balm, toothbrush, toothpaste, soap, hair brush, lotion)
• Hair ties or headband
• Snacks
• Sugar-free lozenges (keep your mouth from drying out during delivery)
• Comfortable and loose clothing (including a non-stick pair of socks and robe)
• Reusable water bottle
• Pillow 
• Bath towel
• Maternity bras, underwear and nursing pads
• Nipple cream
• Clothing for your newborn
Do I need to bring diapers to hospital?
The hospital will likely supply diapers, but just in case, packing a few diapers in your hospital bag will help you to be prepared.
What should I bring to the hospital for my newborn?
At the top of the list of items to bring to the hospital for your newborn is an infant car seat. Ensure the car seat is properly installed in advance of delivery day. Other items to include for your newborn are:
At least two clothing outfits (always have a backup outfit for diaper blowouts)
• Socks
• Hat
• Blanket
• Diapers
• Wipes