How to Get Dads More Involved During Pregnancy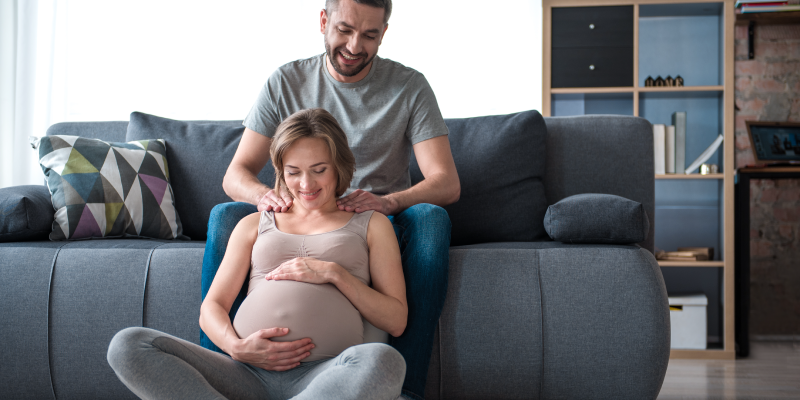 While it's true that during pregnancy you do all the heavy lifting for the nine months. That doesn't mean, however, that you shouldn't have all the love and support from your partner. Remember, the pregnancy isn't just about you, and it's easy for soon-to-be dads to feel left out. Here are some ways to get dads more involved during pregnancy so that you can enjoy the nine-month journey together.
Break the pregnancy news together
This should come as a no-brainer but announcing the pregnancy and how you choose to do that should involve both of your ideas as a couple. If he's barely mentioned, he may not be as excited as you are. Have him there for every step, social post and phone call to break the happy news.

Add doctor appointments to his calendar
The quickest way for expecting dads to feel important during the whole process is when they hear the heartbeat and see the sonogram. Make sure that for every especially big appointment, you find a time that works for his schedule too. Go the extra mile and send him calendar invites so he's got everything on his calendar.

Encourage him to host a dadchelor party
Your friends will be throwing you a baby shower (or a postpartum party) so why not encourage him to have a dadchelor party, where he can hang out and celebrate his upcoming dad duties with his closest buddies.

Register for baby items together
While he may not be scouring Pinterest boards and reading all the articles to decide what you need (and what you don't need on the baby registry), that doesn't mean he's entirely clueless to the baby registry process. You'll have strong opinions on the big items like crib, car seat and stroller, but if there are little things he sees that you know aren't totally necessary don't shoot down his ideas. What's the harm in letting him add baby mittens to the registry?

Involve him with decorating the nursery
So his taste leaves a little bit to be desired, eh? That's ok. Keep involving him in the nursery decorations. Pick out some patterns and get his opinion on which ones he likes. He'll feel like he had a hand in designing the nursery and will want to spend time in there.

Trust him with the baby
It's easy to nitpick and notice things that he's "not doing right" or like you would, but try not to hover. As long as he's not putting the baby in danger, it's his way of getting comfortable caring for your little one. How will he figure those things out if you never give him the chance to?

Be vocal about how he can support you
Conversely, if there are things you'd like him to help more with, tell him. Especially if he's a first-time dad, he won't know the best way to help you or he may even feel unsure of his new role. If you'd like him to change more diapers or take the midnight feeding, let him know. Be vocal about how he can best support you and chances are he will appreciate the direction.

Don't stick him with all the tasks you hate
Do your best to avoid giving him all the tasks that you hate doing yourself. Instead, give him some of the fun duties like singing baby a lullaby or manning bathtime with baby. Not only are these things he'll enjoy, it will also help him bond more with the baby.

It takes two to make a baby and it takes two wonderful parents to help raise a baby. Get dads more involved in the whole pregnancy journey and chances are it will bring you two closer together as a couple too.
Join the other 1,000,000+ expecting mamas who love Bump Boxes.