Last Month of Pregnancy Checklist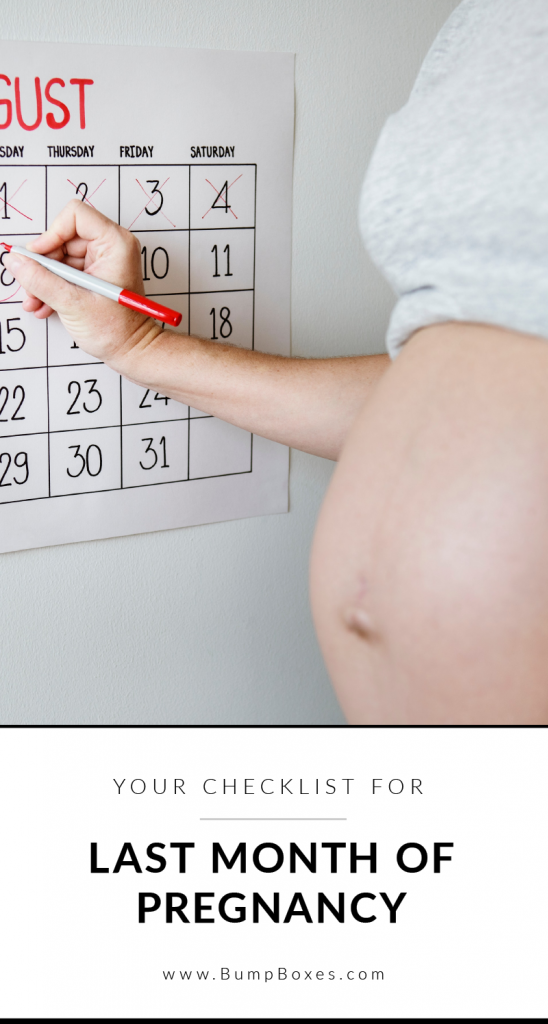 Congratulations, mama! You've reached the last month of pregnancy.
You are in the home stretch of your pregnancy and it's time to finalize preparations for the arrival of your beautiful baby! Your life is about to change drastically (for the best, of course) so we have a list to help you prepare for all the crazy in your last month of pregnancy!
Sleep. Then Sleep Some More
As soon as your little ones arrives, sleep will feel nonexistent. In your last month of pregnancy, squeeze in as much shuteye as you can. Curl under the covers longer in the mornings, go to bed earlier than usual, take a nap whenever the couch calls your name. You'll be happy you did.
Treat Yo' Self
Mama's need a bit of pampering too and now is the best time to do that! Get your hair done, wax those eyebrows, enjoy a relaxing day at the spa. Even better-get those toes manicured. Once your little miracle is born you'll be able to see those feet again! You're going to not only look good heading into that labor room, but you'll be feeling good.
Get Your Hospital Bag Ready
Do you have toiletries in your bag? Nursing bra? Snacks? The clock is ticking and you'll want that bag set and ready for when you bust out the door to the hospital. There are a lot of lists circulating the internet, but we have a great list here for you to check out!
Freeze! It's Meal Prep Time
The last thing you'll want to do is prepare a meal and cook it when you return home. It's going to be hectic for awhile-so stock up your pantry with any goodies you'll need and fill up that freezer with meals! Breakfast, lunch, dinner, the whole nine yards. Bust out the Ziploc baggies, mama. You've got some planning to do!
Finish Last Minute Shopping
Now is the time to do any last minute shopping you have to do. Whether it's grabbing a package of newborn diapers or stocking up on toilet paper for the house, get it all now! Getting everything together now will reduce a lot of worry and stress down the line.
Let Loose, Mama! Plan a Date Night.
Whether it's dinner with your hubby or a night out with the ladies, enjoy your time outside of the house! As soon as the baby is born, planning a date night will be a lot harder than it was before. Check out that movie you've been dying to see or visit the little restaurant in town you've been wanting to try. Take advantage of that time now in your last month of pregnancy and enjoy yourself!
Protect Your Mattress
It's no secret that a lot of women will have their water break while in bed. Instead of dealing with the difficult clean-up, cover your bed with a waterproof cover. Your mattress will thank you.
Prepare Your Car
The hospital won't let you leave until your little one's car seat is set and ready. It's better to have that situated now so you don't have to worry about it later. While you're at it, fill that gas tank up too! The last thing you want to do is stop for gas when you're experiencing labor pains.
Find a Sitter-And Not the Baby Kind
Have a furry member in the family? Plants that will need watering? For those times you have to book it out of the house, line up a list of helpers for those emergencies. It will take a lot of stress off your shoulders and you can leave your house and pets with ease.
Enjoy Your Alone Time
The arrival of your baby will start an incredible and amazing journey, but don't forget about the journey you are on now! Enjoy this time to yourself before your life takes a 360 and you take on the permanent title of "mom". Snuggle up on the couch and watch a movie or read your favorite book. Relish in being fabulous!