Layette: Basic Supplies a Newborn Needs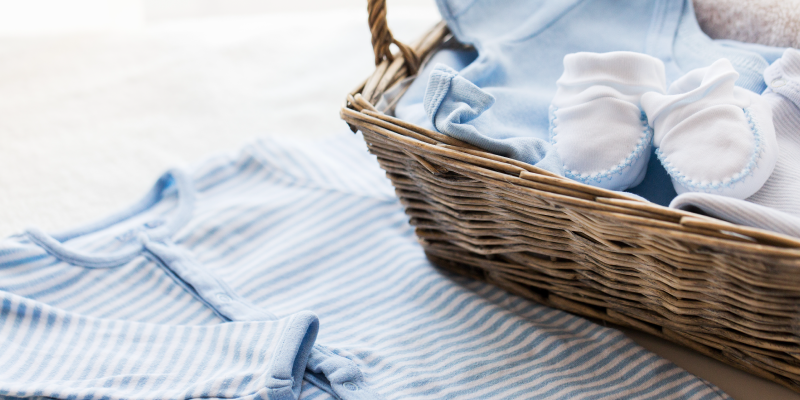 Expecting moms are exposed to a lot of information they otherwise had no clue about. You'll hear terms like cholestasis, doula, layette, colostrum, Kegels, etc. and see them popping up everywhere in online searches. It can feel like you've entered a foreign land where nothing is familiar. Don't fret! It doesn't mean you are destined to become a bad mom or not prepared for the journey that is pregnancy and motherhood. Everyone who has ever had a baby went through pregnancy for the "first time" and with experience comes knowledge. So, what is a layette anyway? Here's everything you need to know about newborn supplies.
What is a Layette
So what is a layette? A layette refers to baby clothing must-haves that every new mom needs. In a nutshell, a layette is your baby's first wardrobe. The collection of clothes that a newborn needs is often considered a layette, but it can also refer to the basic supplies you'll have on hand for an infant. Here are some general tips to keep in mind when shopping for a layette:
Don't buy too much in advance as you won't know when your baby arrives and how big he/she is at birth.
Infants grow at lightning speed and won't be tiny forever. Newborn sizes are often too small so opt for slightly larger sizes your little one will grow into.
Once your baby arrives, you'll have a better idea of what sizes and styles will fit.
Go for soft and comfortable materials, finished seams and fasteners that close without much effort.
Snaps, buttons and tags can scratch your little one's delicate skin. You may also want to avoid zippers, which can pinch.
How many you'll need of one item is up to you and your laundry preferences
Baby Layette Shopping Checklist
Now that you know you have another person to shop for, resist the urge to run out and buy every adorable baby outfit you lay your eyes on. Our checklist below can help you plan out your shopping or complete your baby registry. Here's your baby layette shopping checklist:
"Take-me-home" outfit: your baby will wear this leaving the hospital so make sure it's not only camera-ready but functional. If the clothes are bulky, you could have trouble strapping the baby into the car seat. Also include a hat and jacket to account for temperamental weather.
4-8 bodysuits or onesies, choose ones with wide head openings and loose legs
4-8 undershirts or vests, snaps work really well
4-8 one-piece pajamas
2 blanket sleepers for a winter baby
1-3 sweaters or jackets
1-3 rompers or other dress-up outfits
4-7 socks or booties (shoes are mostly a nuisance until baby is ready to walk)
1-3 hats, again think of season: wide-brimmed for a summer baby and one that covers the ears for a winter baby
Gloves or something to cover babies hands
Bunting bag or fleece suit for a winter baby
Swimsuit for summer baby
Gentle laundry detergent
Join the other 1,000,000+ expecting mamas who love Bump Boxes.