Make the Most of Your Summer Pregnancy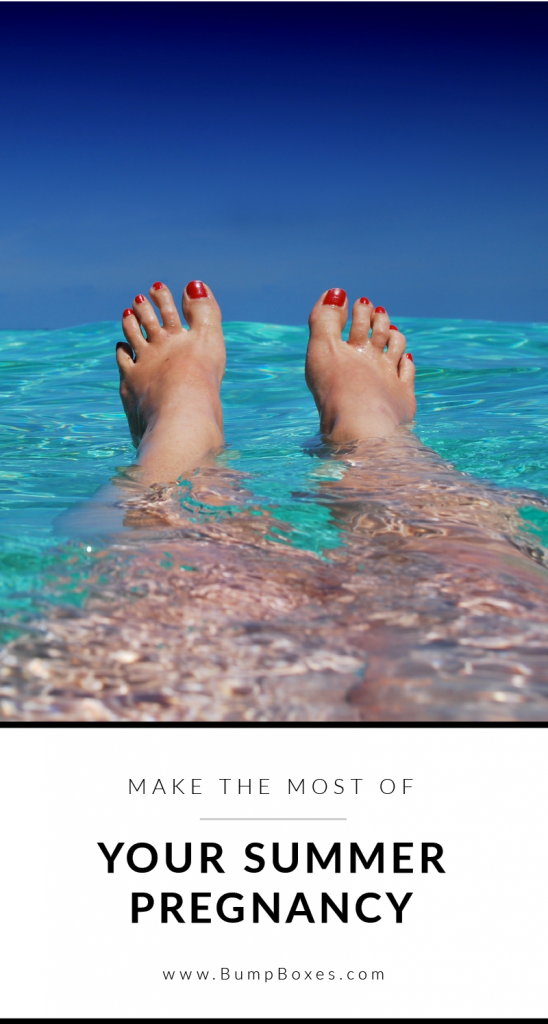 Mamas, we've all heard the horror stories of summer pregnancies, but we're here to tell you it's no sweat!  Just follow our tips below, and you'll be cool as a cucumber all summer long!  Enjoy that sunshine, mama, we've got you covered on everything else.
Drink Water…LOTS of water!
First and foremost, stay hydrated, mama.  We honestly can't stress this enough!  Typically, expecting mamas need to try and drink two liters of clear liquids every day, but for every hour in the sun, you should add 8 ounces!  
If you're bored with water, try adding a splash of tropical juice (we love mango and pineapple!) to chilled seltzer water!  We also swear by our electrolyte freezie pops–simply pour this solution into ice cube trays, let freeze overnight, and pop out for a fun treat!  They're great for mamas suffering from morning sickness, too!
Hang Loose
One of the worst parts of summer pregnancies is feeling sweaty!  Thankfully, there are so many cute clothing options that are loose fitting for pregnant mamas!  Steering clear of clingy fabrics and shapes will keep you so much cooler!  We live in flowy maxi dresses in the summertime.  Check out a few of our favorites here and here!  Cute tanks are always in style, too!  We love these here and here that make displaying your bump even more fun!
Put Those Shades On
When you're expecting, it is so important to make sure that you limit your sun exposure!  Those rays can not only be harmful for you, but also your growing little one!  Most importantly, try to stay out of sun during peak hours–usually mid-afternoons!  If you have to stay out in the sun, be sure to slather on sunscreen, wear a super cute floppy hat (we love this one!), and throw on those sunnies!  Sun safety can be super stylish with all the options out there!  You can see more sun safety tips here.
Kick Your Feet Up
Pregnancy alone can make a mama's feet swell uncomfortably.  Add in warmer temperatures, and you might start feeling like your feet are taking on a life of their own!  Keeping hydrated can help a lot with this, but the best tip for swollen feet is to keep them elevated.  Prop them up with a pillow, or on an adjacent chair.  Flip flops are an expectant mama's best friend in the summertime!  Make sure you cut back on the salty foods, too–sodium will make you feel swollen all over.
Pool Day!
If all else fails, make it a pool day!  Throw on that sunscreen and floppy hat and dive right in, mama.  The water will aid in cooling you down, and a nap on one of these floaties sounds fabulous!
We promise if you follow these tips, not only will you survive your summer pregnancy, you'll love it.  Soak up that sunshine, mama!