Nursery Ideas : Our Top Picks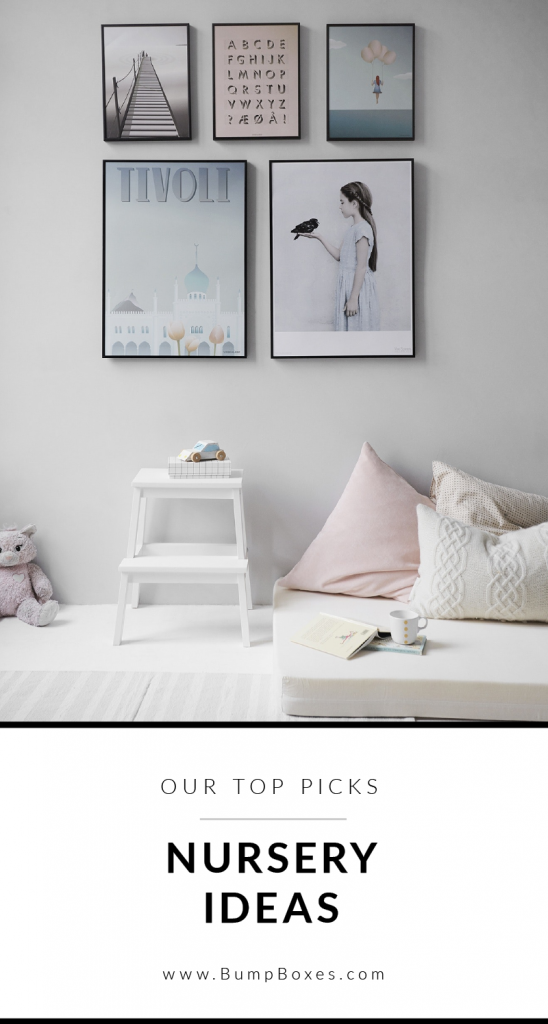 Is there anything better than a sweet baby nursery?  Decorating an entire room for your new arrival is a nester's dream!  However, it can get overwhelming with all the options out there!  We're here on the blog today to round up our absolute fave baby nursery inspiration!
Baby Boy
Snips, and snails, and puppy dog tails–we love little boys!  With fun blues and sweet wild one themes, it's hard to go wrong with baby boy rooms!
We are absolutely obsessed with the wilderness nursery theme popping up everywhere!  We love the sweet bear focus on this one, and cannot get over that rug!  Seen here.
This nursery is so simple, it's perfect!  We love the dark blues, and that marquee G is just to die for!  See the full post here.
Baby Girl
Rooms fit for a princess might be some of the best rooms to design!  We love all things glam, sweet, and floral-y, so these pics for a girl nursery will come as no surprise!
This little glam nursery is absolutely to die for!  We love the sweet beaded chandelier and that beautiful pink changing table makes the whole room!  See the full post and inspiration here.
This room…swoon.  That moody floral wallpaper and jewel tones make this baby room an absolute stunner!  You have to love something different from the normal pretty-in-pink themes!  See room detail here.
Gender Neutral
Non gender-specific decor has become a huge trend lately, and we're loving it!  With plenty of neutral colors ranging from warm beige to forest-greens, there's a color scheme for everyone!
Who doesn't love safari animals?!  This room offers a clean beige palette with adorable animal prints and friends slipped in!  Subtle, sweet, and perfect.  See post here.
Ah!  These muted greens could not be any more perfect for a baby's room!  With a calming, spacious feel, this nursery is definitely one of our top faves!  And we just love that adorable banner–let those wild ones roam!  See completed room here.
So there you have it, mamas!  The best in baby nursery inspiration, curated right here for you!  Share your nursery pics with us by tagging us @bumpboxes!  We can't wait to see!