Our Fave Products for Stretch Marks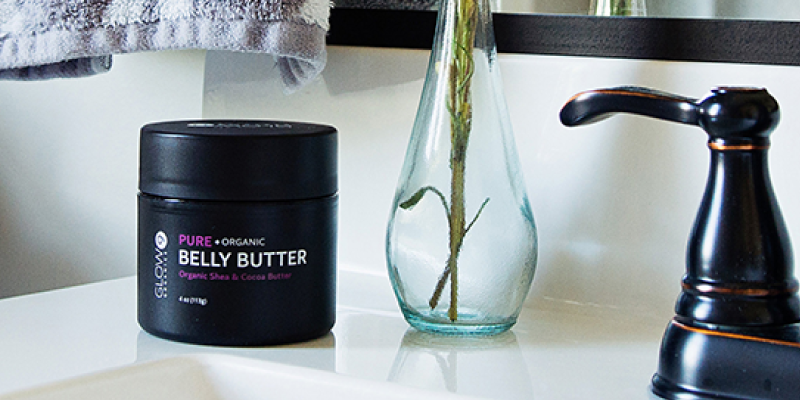 Stretch marks: an ugh-inducing unfortunate reality that about 90 percent of pregnant mamas have to deal with, are often considered one of the most dreaded side effects of pregnancy (don't even get us started on cankles…). While skin is typically pretty flexible, it's the drastic and rapid increase in the size of one's body during pregnancy that is responsible for disrupting its typical adaptability. As our bodies grow, the dermis (middle layer of our skin) incrementally stretches to accommodate growth. During pregnancy, the body grows at a much faster rate than the dermis can keep up with, causing it to tear and reveal stretch marks.
While there are a multitude of ways to prevent the formation of stretch marks during your pregnancy, the best defense begins with improving skin elasticity. This can be accomplished via maintaining proper hydration (don't skimp on the recommended 10 cups of water a day!), eating right (antioxidants are your friends) and keeping skin soft and supple 24/7.
When it comes down to preventing and treating stretch marks during pregnancy, just remember grabbing that favorite bottle of lotion off of your nightstand probably isn't going to do the trick. If you're wondering what skincare products are safe for mom and baby AND actually make a difference, we've compiled a list of our favorites below to make your life just a little bit easier.
1. Glow Organics 9 Organic Belly Butter -$24.99
Currently housing a little belly tenant sans stretch marks? This belly butter is a great preventative measure that improves your skin's elasticity. It's unscented too, so no need to worry about strong funky scents.
2. Era Organics Organic Stretch Mark and Scar Body Oil -$39.98
This small bottle can conquer some major stretch marks. Moisturizing oil repairs and fades the appearance of pre-existing stretch marks while leaving your skin BEYOND soft. Smells great too!
3. Earth Mama Organics Belly Oil -$14.99
This light yet absorbent oil helps skin stay nourished, minimizing the appearance of stretch marks as the skin expands during pregnancy.
4. Previse MommyBalm Stretchmark Cream -$75
Give yourself the luxury treatment with this amazing cream that helps get rid of the depth, texture and discoloration associated with stretch marks.
For the majority of moms-to-be, stretch marks are an inevitable part of the pregnancy process. Whether you decide to rock your mama stripes or get rid of them altogether, just remember your body is beautiful either way.
Join the other 1,000,000+ expecting mamas who love Bump Boxes.