Packing Your Hospital Bag: Our Checklist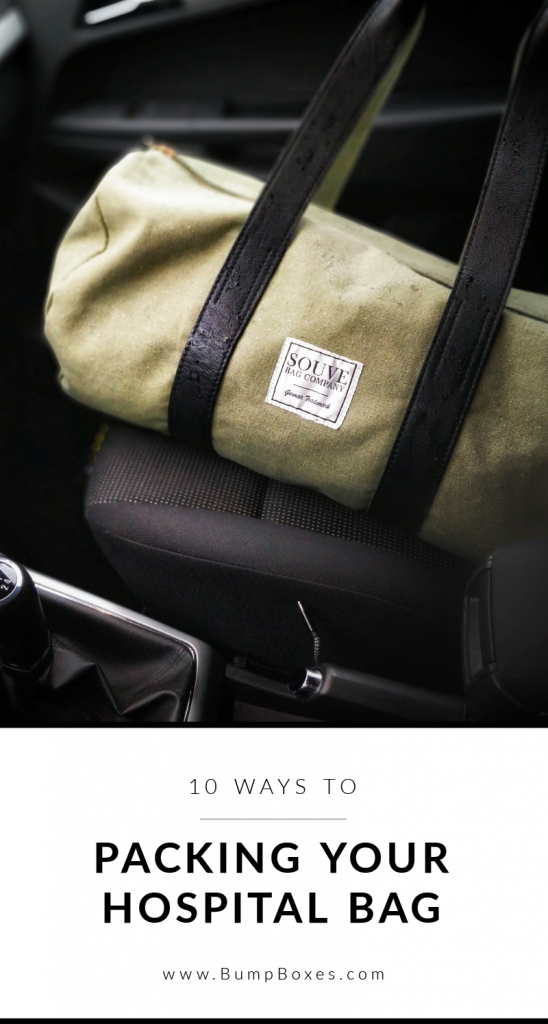 We know planning for that all too exciting hospital trip can be a bit overwhelming, mama.  Especially if it's your first time!  But we've got your back–we're here breaking down the items you'll actually need in your hospital bag, to survive labor and beyond!
FOR MAMA
Comfy socks:  Yes, the hospital will provide you with socks for your stay.  However, most times they don't stay in place, and can add more frustration than help for mamas that are already going through a lot!  Instead, pack a pair of socks you

know

you love and will be comfy in that hospital bag.  Just make sure they have no slip material on the bottom!  Try this pair here.
Underwear:  You will likely stay in the underwear/undergarments the hospital provides for you during your stay.  However, we do suggest having a fresh pair to wear home from the hospital.  Trust us, you'll want to be wearing your own when you leave!
A maxi or shift dress:  You likely won't be spending much time in the hospital getting dressed for the day.  And when you leave, you're not

going to be wanting to wiggle into a pair of pants!  Instead, opt for a loose fitting, comfortable dress, like a maxi or a shift dress.  Not only will it be easy to get into, but you'll have less trouble moving around!
Robe and nursing bras:  As mentioned above, you likely won't have a lot of energy to put into getting dressed each day at the hospital.  Most of your time will be spent in the bed, or meandering around your room.  We suggest bringing a comfy robe, and a nursing bra.  This will give your new little one ease of access to latch, and will keep you cozy at the same time.
Flip flops:  Don't bring shoes that take effort to get on or off.  Instead, opt for a pair of flip flops or even flats–anything you can slide onto your foot easily and quickly.
Phone charger:  Trust us, you'll want to have that phone charged–you'll have excited family and friends, and want to share pictures of your new little miracle!  Just make sure you take some down time to soak it all in.
Portable fan:  Labor is hard

work, mama, and you'll likely work up quite the sweat!  To stay comfortable, we recommend bringing a portable fan in your hospital bag.  Trust us, you'll be thanking us later!  (Pro-tip: Grab one that can clip onto your hospital bed–that way everyone's hands are free for anything else!)
TOILETRIES
Dry Shampoo:  Many blogs and checklists will suggest that you pack shampoo, conditioner, and all your cosmetics.  But mama, let's be real.  All you need is some dry shampoo and mascara for the occasional picture.  There's plenty of time to take a real shower at home.
Brush and hair ties:  See above, mama.  You'll want plenty of hair ties in your hospital bag to hide any bad hair days.
Chapstick:  Between heavy breathing and sucking down ice chips, mama, your lips run the risk of getting

very

dry!  Combat this with a tube (or two!) of your favorite chapstick.
Toothbrush/toothpaste:  There's nothing like a fresh, clean mouth when nothing else seems clean or fresh.  You feel us?
Pads:  We cannot stress this one enough–the hospital will provide you with pads, but they will likely be big, bulky, and uncomfortable.  Instead, grab a pack of super absorbent ones that you know will be comfortable.
FOR BABY
Onesies:  You can, of course, bring a sweet outfit for baby's going-home photos.  But it doesn't hurt to have a round of easy to use onesies on rotation!
Baby mittens:  Put a pair of these into your bag so that you have them ready to protect baby's face from tiny, sharp nails!  You'll want these available all the time, not just in the hospital.
Swaddle:  For times when a onesie just isn't worth the struggle, wrap your sweet one in a tight hug via a swaddle.  We love the ones here from Swaddle Me!
Nipple Cream and Nursing Pads:  These are so important for you mamas that plan on breastfeeding.  Nipple cream will help to keep nipples from becoming cracked and sore, and nursing pads will keep you dry and comfortable.  Life savers!
Of course, it never hurts to throw in things like snacks and neck pillows, mama, but if you're looking for the main essentials list, these are the things you don't want to live without.  Now take a deep breath–you've got this, mama.