Pregnancy and the Workplace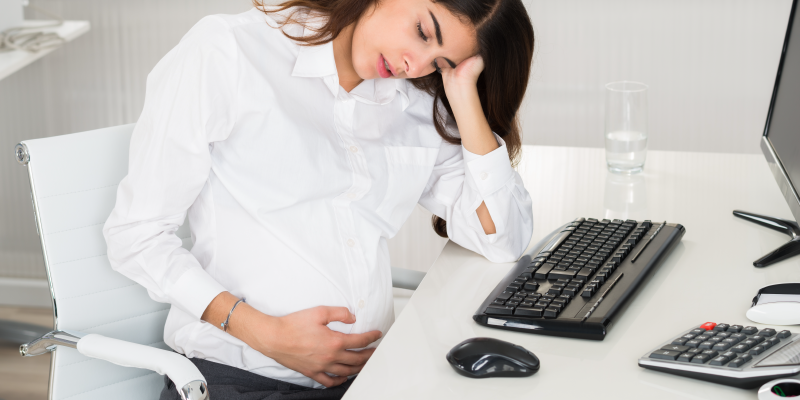 Yay, you're pregnant!  Your family is growing by one, and you can't wait to share the big news!  While announcing a pregnancy is so exciting, it can feel a little awkward in the workplace.  But it doesn't have to be, Mama! We're on the blog today to help you navigate the less exciting parts about announcing!
BE HONEST
The worst thing you can do is try to hide the fact that you're pregnant from your coworkers!  It will make things like dealing with morning sickness, covering your growing bump, and handling that fatigue so much harder!  Instead, try to clue your boss in as soon as you can!
Some mamas wait until the 12th week to announce to anyone, due to viability reasons.  Whether you choose to do this, or announce right away, try to tell your boss as soon as possible–this helps everyone come up with a contingency plan for your leave as well as ways to help you stay comfortable as your pregnancy goes on!
Let your boss know your plans for maternity leave–when will you want it to begin, when will you be returning (if you are!), and ask what you can do to help with the preparation!  This will make everything so much smoother for both of you!
KEEP IT PROFESSIONAL
As you start to grow, it can be important to invest in some work-friendly maternity wear!  Whether you drop some serious cash on a new work wardrobe or just invest in some belly bands or extenders, buying pieces that look professional will keep you comfortable and looking good, mama!  
STAY COMFORTABLE
We can't stress this one enough, Mama!  Make plans ahead of time to keep your workspace comfortable and your workload safe!  First and foremost, know your limits! Don't take on huge projects mere weeks before your due date, and be sure to avoid lifting anything heavy, whether that's office supplies or product!
Be sure to stay prepared as well!  Keep heating pads or back pillows for back pain, snacks and water to tame morning sickness, and pregnancy-safe pain relievers or antacids!  Find ways to prop your feet up if they start swelling, and make sure you're always listening to your body, Mama!
Telling your coworkers about your pregnancy can be just as exciting once you get over the initial awkwardness!  Soak up all that attention, Mama, you deserve it!