Reasons it's Great to be Pregnant During Summer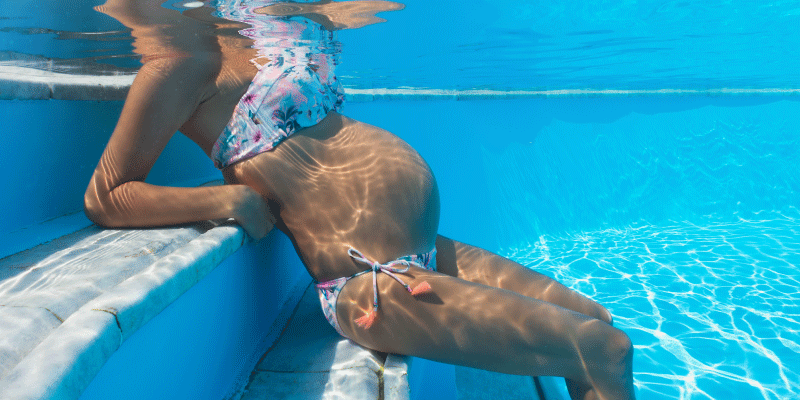 Being pregnant during the summer gets a bad rap. Even if you and your belly will be sweating for two during the year's hottest months, there are several reasons being pregnant during summer can be a beautiful thing. For one, it's summer and there's a special energy that comes along with everyone's favorite season. Warm weather and longer days are known to lighten the mood, and you'll benefit from that given pregnancy's wacky and ever-changing hormones. Here are 7 other reasons it's great to be pregnant during summer.
Outdoor exercise is perfect during the summer
Maintaining a healthy pregnancy is every new mom's number one goal. Getting outside for some fresh air is easy during the summer months. Walking is a low-impact exercise that has great cardio benefits for expectant moms. Plus it can be done during all stages of pregnancy and at all fitness levels. Swimming is another excellent form of exercise during pregnancy that can help with swelling, pressure, loosen the joints and provide relief from the heat.
Farmer's Markets are Loaded with Fresh Fruits and Veggies
Obviously it's very important to get as many nutrients as you can to keep your growing baby healthy. Fresh fruits and vegetables are packed with important nutrients, dense carbohydrates and fiber, all necessary ingredients for a healthy baby. And summer has tons of farmer's markets and outdoor stands with all the fresh fruits and veggies you need.
Vitamin D is So Important
Vitamin D vibes are important and necessary for pregnant women. Expecting moms are at risk of vitamin D deficiency, which can lead to gestational diabetes, preeclampsia and other conditions. Because you typically can't get enough Vitamin D through food sources alone, spending time in the sunshine wields numerous benefits. Just be sure you wear pregnancy-safe sunscreen and don't get too much sun!
Hello, Maxi Dress Season
Breezy, lightweight dresses are a pregnant woman's best friend. Maternity dresses, skirts, tank tops and bathing suits are all fair game during the summer and will help you remain comfortable and cool, no matter which trimester you're currently in.
Your Baby May Miss the Worst of Cold and Flu Season
Depending on when your baby is born, he may avoid dreaded illnesses like RSV, which is a highly contagious virus that causes a respiratory tract infection and typically occurs during October through May. Babies born in the warmer months have an advantage and are less likely to get it.
It's Easy to Stay Hydrated During Warmer Months
It's hot, and the urge to drink loads of water comes easy during the warmer months. Because it's essential to stay hydrated throughout pregnancy (and more so during summer), you'll need to keep up on your daily quota. Easy peasy! The warmer months there are many refreshing ways to stay hydrated. Bored from the water? Try a mocktail!
Summer Means Vacation Time
Have you taken a babymoon yet? Summer is a great time to take a vacation and a break away from work. If you're currently in your second trimester, it may be the perfect time for you and your partner to take a last-minute romantic getaway or babymoon. Connect and spend quality time together before two becomes three.
Aside from dealing with the heat, being pregnant during the summer has many advantages. Make the most of the sunshine and warmer weather while you can!
Join the other 1,000,000+ expecting mamas who love Bump Boxes.