Tanning During Pregnancy – Is it Safe?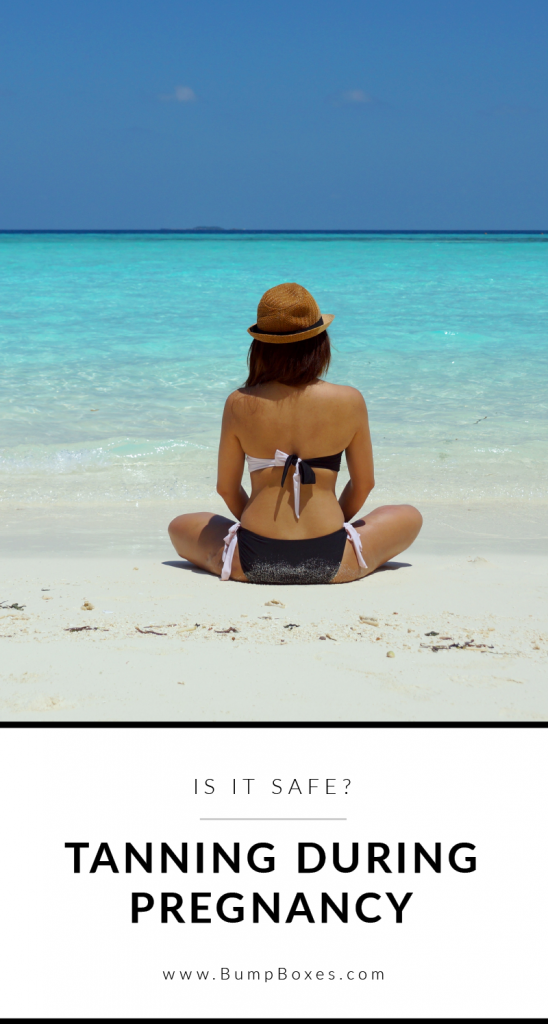 It's May, mamas! What does this mean? Sunshine and warm summer afternoons! In other words, it's the best time to sport your floral sundresses and colorful tank tops. But the best addition to a summer wardrobe is a sun-kissed glow!  We're here to give you the scoop on tanning during your pregnancy and whether or not it's safe.
Tanning Beds
Pregnant or not, the UV radiation that's emitted when you're in a tanning bed is harmful to both you and your baby. According to BabyCenter.com, a study showed that visiting a tanning booth ten times a year doubles your chances of getting melanoma. It's a pretty scary thought, especially since it's one of the deadliest kinds of cancer. Additionally, laying in a tanning bed raises your body temperature above 102 degrees, which has been linked to spinal malformations in babies. There is also the concern of lying on your back too long, which can restrict blood flow and cause dizziness.
Natural Sunlight
The concerns associated with tanning beds are the same with natural sunlight: intense heat and UV rays that pose a harmful threat. There are no studies that show tanning directly harms your baby, but what harms you can harm your baby later on.  Not worth the risk, mamas!
Self Tanners
When it comes to spray tans, we recommend staying away. The fumes aren't safe when they are inhaled and can possibly enter your bloodstream, harming your baby. Self tanners, however, are a great option for a natural glow, and their ingredients aren't usually harmful. However, we do recommend mamas read each label and check out the ingredients before use!
The final verdict? No…unless you use a safe self-tanning lotion.  There are dozens of safe, awesome options to choose from! If there's a day you're planning on hanging out in the summer sun, we recommend slathering your skin with moisturizing sunscreen and putting on an adorable sun hat.  And don't forget to stay hydrated, Mama!