The basics of using a breast pump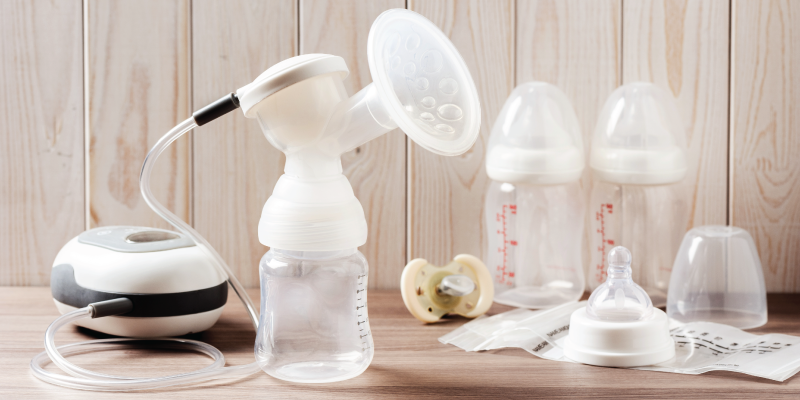 The benefits of breastfeeding are many, including the bonding time between you and that sweet little baby. But as you start to calculate and schedule the number of daily feedings and the timing of each, you may start to feel as if you can never be more than a boob-length away from your baby. If at some point you plan to return to working outside the home, or maybe envision a date night or even help with a middle-of-the-night-the-baby-is-hungry-it's-your-turn feeding, purchasing a breast pump may be an item to consider.
A wealth of knowledge is available for the details of what pump to buy, how to pump and instructions for cleaning a pump and beyond, but we'll start off easy with the basics of breast pumping. From what breast pumping is to the benefits, keep reading for the answers to your fundamental questions about breast pumps.

Get the Best Breast Pump – Free with Insurance!
Choose from a selection of the best breast pumps, including electric and manual breast pumps, plus a medela breast pump.
What is a breast pump?
Simply put, a breast pump is a device that expresses milk—sans baby. For mamas who are breastfeeding, but for various reasons do not have in-the-moment access to the baby, a breast pump can do the trick. A breast pump works to stimulate milk production, allowing you to pump and store that nutritional goodness many mamas call "liquid gold" for later use.

Types of breast pumps
Luckily there are multiple types of breast pumps, including both manual and electric options. Single and double (electric breast pumps only) styles, and a range of expense allow you to find a breast pump that will meet your needs. Multiple brands offer variations of manual, electric, single and double pumps, meaning you can select a pump based on factors such as cost and how much you intend to pump.

Benefits of breast pumping
Breast pumps can be helpful for work-outside-the-home moms, those with a baby in the NICU or who are otherwise hospitalized and for having a supply of milk available. Other benefits of breast pumping are:
Share the love and the responsibility of feeding (hello 3 a.m. feedings!)
Breast engorgement relief
Prevention of mastitis
A just-in-case stock
Do I need a breast pump?
If you're not sure if you need a breast pump, consider your response to the following questions:
Are you breastfeeding?
Do you want your baby to have access to breast milk when you're not available?
Are you planning to return to working outside the home and still supplying your baby with breast milk?
Would you like to share feeding responsibilities or bonding time with your partner?
A response of "yes" to a number of these questions may suggest that the addition of a breast pump to your life may have its benefits. If you're on the fence or think that your breast pumping needs may be minimal, manual pumps can be an affordable and efficient option.
The choice to use a breast pump can give a breastfeeding mama some flexibility in a life that often revolves around a baby's feeding schedule. If you decide a breast pump may be right for you, check out these options.
Join the other 1,000,000+ expecting mamas who love Bump Boxes.