Our Top 10 Picks for Babymoon Destinations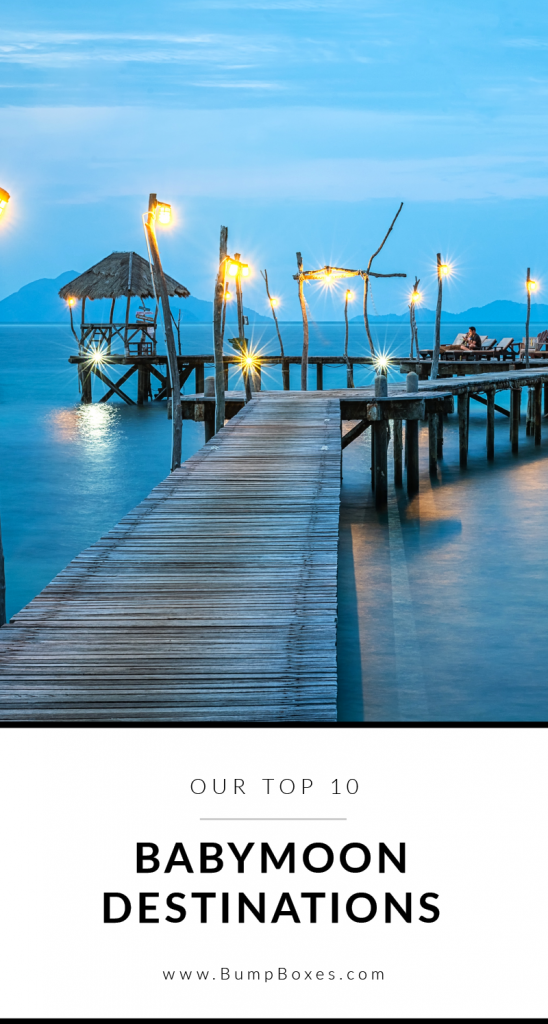 While pregnancy is beautiful in every way, we know it can get exhausting, mama!  And can feel overwhelming to realize how rapidly you're approaching motherhood.  Enter: The Babymoon.  Your 2nd trimester is the ideal time for you to plan a getaway!  After morning sickness has subsided, and your bump hasn't grown difficult sizes, you'll find the perfect time to set aside a vacation for you (and maybe your partner!) to get away to refresh, digitally detox, and reconnect before baby arrives!  See below for our top picks!  Pack your bags, mama, you're headed to Relaxation!
Tropical Getaway
Breezes Bahama: Nassau, Bahamas 
For a classic take on the babymoon, this beautiful tropical retreat is a great way to take your mind off the stress of upcoming events!  Rock that bump in a bikini and dive into one of the resort's many pools, or even relax in one of the spacious cabanas.  Ahhhh….isn't that better?
Take some time to turn it all off, mama.  These beachfront bungalows invite guests to enjoy a stay with no TVs, no wi-fi, no cell reception.  Instead, put your focus on the out of this world activities available: sea turtle swimming, rainforest hikes, and luxurious massages.  We guarantee you'll come back refreshed, renewed, and ready to take on motherhood.
Ritz Carlton: Amelia Island, Florida 
Who doesn't love a good trip to Florida, mama?  Not only does the Ritz offer incredible prenatal massages, but also a Pregnancy Craving Menu to delight all of your cravings and needs!  How can you top that?!
Small Town Charm
White Elephant: Nantucket, Massachusetts  
For the mamas that aren't feeling tropical, this adorable resort will be right up your alley, and comes with it's own babymoon package!  Enjoy an hour long prenatal massage, with a spa activity for dad, and a complimentary cigar!   Enjoy your fill of cheeses and pastries while soaking up every ounce of charm this adorable town has to offer.  
Mamas, we are obsessed with this cabin style retreat!  This facility is adults only, so you can get your fill of peace and quiet before baby arrives!  The cabin offers your own private sauna, breakfast each morning, and 3 course dinners that are locally sourced.  To die for!  
Omni Amelia Island Plantation Resort : Savannah, GA 
There is so much to love about the southern charm of Savannah!  For an easy, laid back babymoon, we swear by Omni Amelia Island Plantation Resort.  Spend your day at the spa or playing tennis, then enjoy fresh caught fish for dinner.  You'll love ending the evening with s'mores on the beach.  I mean, does it get any better?  
'Moons with a View
Post Ranch Inn: Big Sur, California  
One of our personal faves is the Post Ranch Inn in Big Sur, California.  Mama, don't snooze on this one!  With a huge personal fireplace in your room, soaking tub, morning yoga classes and stargazing sessions, you might just move in!
Arizona Biltmore: Scottsdale, AZ  
For an easy access babymoon, you can't do better than Arizona!  This resort offers an all natural spa (great for pregnancy with no harmful ingredients!), gorgeous pools, and overall desert oasis.  You can't go wrong with this one!
For those mamas that love a good change in scenery, you can't top this.  Deserts, red rock cliffs, soaring mesas… there's nothing quite like the view in Utah.  Enjoy it from the 34-suite compound, Amangiri, with private pools, fireplaces, and a beautiful spa.  This is relaxation, mama.
We're sure it's no surprise that Colorado made this list.  With beautiful, clear skies and stunning mountain views, we're hoping it tops your list too!  The customer service at this lodge is top notch, with staff offering to stock your room ahead of your visit and stay.  Plus, you can't deny that view!