Top 5 Summer Pregnancy Hacks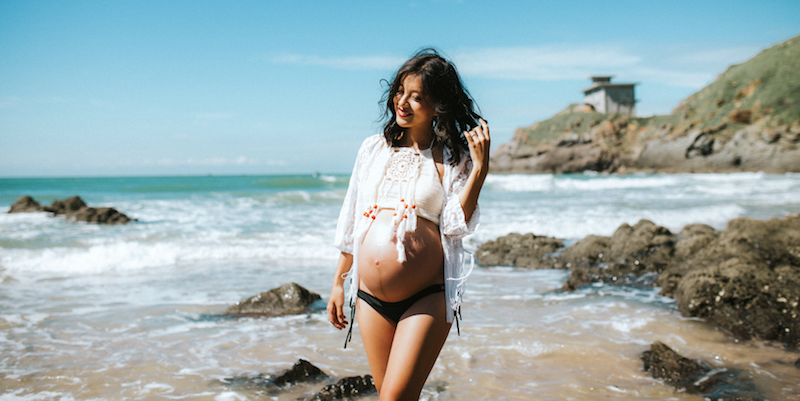 Sun's out, bump's out, Mama!  Pregnancy can be a tiring job during summertime, but it can be really enjoyable despite the heat with a little bit of planning and a few hacks!  We've rounded up our top 5 ways to beat the heat and enjoy that sunshine — bump and all!
Snack well.
Freeze your favorite snack for a fun summer twist!  Put gummy bears and sprite into popsicle molds for a fun poolside treat, or freeze fruit like grapes, blueberries, and strawberry slices for easy snacking!
Float on.
Trust us when we say floaties with holes for your bump are game. Changers.  Seriously, they take lounging at the pool to a whole new level — so grab your floatie, slather on that sunscreen, and enjoy your pooltime, Mama!  You can pick one up here.  
Drink up!
When everyone's sipping on a fun cocktail poolside, make yourself a mom-osa and join!  With so many fun mocktail recipes out there, you can't go wrong, Mama!  Bonus points if you have a fun tumbler to keep it in!  
Long hair, don't care.
Skip the heat tools and embrace your hair's natural texture, Mama!  When the temperatures are rising, that curling iron can be an added source of heat that you don't need — perfect the messy bun and get on with your day!
HYDRATE.
We can't stress this one enough, mamas.  During pregnancy, you should already be upping your water intake levels, but it's even more imperative during the summer!  Grab your fave water bottle and keep it with you at all times!  
Whether you're enjoying a relaxing vacation, hanging poolside, or just staying inside, follow these pregnancy hacks for the best summer yet!