Treating Acne During Pregnancy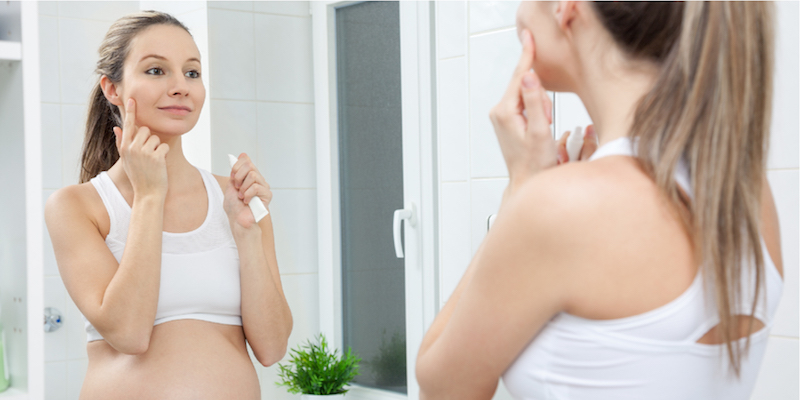 Struggling to keep your stunning pregnancy glow? Are you contending with hormonal acne or pregnancy mask? It can be tempting to add the latest and greatest to your skincare routine when trying to clear up your skin, but during pregnancy, it's important to keep an eye on the ingredients. The majority of pregnant women understand that what they put in their bodies has the ability to affect the health of their developing baby. However, the potential ramifications of what many mamas put on their bodies are what often get overlooked. While many everyday products are entirely safe for mom and baby, there are several skincare ingredients specialists encourage to avoid while pregnant. But not to worry — SO many women experience acne during their first trimester and safe solutions do exist. Even if you've had clear skin forever (including high school), fluctuating estrogen levels can mean dealing with unwanted acne during pregnancy. Wondering what's ok and what isn't? We have options for you.
Acne Treatments
While going to a dermatologist is always the safest bet, using a face wash that contains less than 2% salicylic acid should keep any annoying bouts of acne at bay. This low percentage has been deemed safe and will help keep you glowing. When it comes down to what to stay away from — any type of acne lotion, gel, at-home peels and creams need to stay out of the bathroom cabinet.
So the next time you peruse the beauty aisles, be sure to read the labels and keep an eye out for these acne treatment no-no products and ingredients:
Tretinoin

Avage, Fabior, Tazorac (tazarotene)

Avita (tretinoin)

Salicylic acid

Differin (adapelene)

Retinoic acid

Panretin (alitretinoin)

Targretin gel (bexarotene)

Retin-A, Renova (tretinoin)

Retinol

Retinyl linoleate

Retinyl palmitate
Retinoids
Retinoids belong to a class of chemical compounds that are often seen in anti-aging moisturizers and treatments for acne, plaque psoriasis and hyperpigmentation. Retinoids are chemically related to Vitamin A and assist in a process called desquamation (aka shedding dead skin cells at a regular rate to prevent them from creating clogged pores). This is critical because clogged oil ducts lead to acne while clogged hair follicles result in a condition called keratosis pilaris. In addition to helping skin shed regularly, retinoids are also known for their anti-inflammatory effects.
Despite their many potential benefits, experts do not recommend pregnant women use skincare products containing retinoids. Many studies have proven that vitamin A in high doses during pregnancy can harm an unborn baby. For example, Accutane, a name brand many acne sufferers may be familiar with, is an oral retinoid that is known to cause birth defects. But don't worry, if you've been applying products that contain retinoids directly to your skin, you're in the clear. To be on the safe side however, doctors recommend caution for this type of application or simply just avoiding it altogether.
If you see any of these retinoid-related products or ingredients below on a skincare label, keep walking!
Avage, Fabior, Tazorac (tazarotene)

Retinoic Acid

Targretin gel (bexarotene)

Differin (adapelene)

Retin-A, Renova (tretinoin)

Avita (tretinoin)

Retinyl linoleate

Retinyl palmitate

Panretin (alitretinoin)

Retinol
Hydroxy Acids
Hydroxy Acids — like beta hydroxy acids (BHA) and alpha hydroxy acid (AHA) — are a class of chemical compounds found in skincare products catered to treating skin disorders like acne, redness and inflammation. They're typically found in toners, cleansers and exfoliants used to prevent signs of aging. Salicylic acid, the most frequently seen BHA ingredient, has been shown in pregnancy studies to cause both birth complications and defects when taken in its oral form. Unfortunately, the effects of other types of BHAs and AHAs on pregnant women have not been extensively studied. Like retinoids, BHAs are to be completely avoided in their oral form. Topically they aren't particularly dangerous, but are typically recommended against by medical professionals due to their list of potential harmful effects in the oral form. However, a once or twice daily application directly to the skin (excluding face and body peels) have been deemed safe. If you do decide to use a BHA containing product, be sure to stay out of the sun or use sun protection products (they cause sensitivity to the sun).
Now onto the alpha hydroxy acids (AHAs). You've probably heard of lactic acid and glycolic acid — the two most common types of AHAs. Unfortunately, these have not been extensively tested in pregnancy studies. Luckily, only a small amount can really be absorbed into the skin, making them low risk options when used in lower quantities.
The hydroxy-acid ingredient nope list:
Alpha hydroxy acid (AHA)

Hydroxyethanoic acid

Benzoyl peroxide

Glycolic acid

Beta hydroxy acids (BHA)

Beta hydroxybutanoic acid

Betaine salicylate

Dicarbonous acid

Hydroacetic acid

Hydroxycaproic acid

Lactic acid

Citric acid

Salicylic acid

Trethocanic acid

Hydroxyacetic acid

Tropic acid

Azelaic acid
Soy
Soy? You're probably wondering if you read that correctly. While lotions and facial products with soy bases are typically safe to use, soy is also known for its estrogenic effects that can cause dark patches of skin called melasma or chloasma. If you have melasma, be sure to nix these ingredients from your skincare product diet:
Lethicin

Soy

Textured vegetable protein (TVP)

Phosphatidylcholine
What to Look for When Browsing Skincare Products:
We'll make it simple for you — anything hypoallergenic, paraben-free or non-comedogenic (products that don't clog pores) are safe to use on acne and are also safe for baby. May we recommend:
Organic to green Great Barrier Chap Guard – $18
Perfect for maintaining your mama glow and skin hydration year round, this incredible chap-guard is made from healing botanicals and oils.  Whether your skin is dry from pregnancy or the weather, this balm will soothe any discomfort and return moisture immediately!
Glow Organics 9 Charcoal Face and Body Mask – $24.99
Need a detox? Alleviate the effects of pesky hormonal skin changes while treating yourself to a personal spa day. Clean and purify pores with the help of this natural activated charcoal and organic avocado oil face and body mask. You won't believe how soft it makes your skin — glow on!
Anna Naturals Toner – $10
Nothing clears up acne-prone skin like a great toner. This safe and gentle one from Anna Naturals uses witch hazel to cleanse and rosewater to control excess oil. No alcohol means no dryness or flaking. You'll love the smell and that it's great at preventing and treating existing acne flare-ups, so you can wave hello to gorgeous skin!
Just a gentle, friendly reminder — anything you put in or on your body has the ability to affect your unborn baby. Unfortunately, a developing infant is not capable of fighting off irritants like your fully developed body. It's up to you to control what enters your baby's fragile system. Evaluating your current skin care regimen is a great place to start, and can be easy when armed with the right research. A quick read-through of the ingredients on your current skincare regimen can help you decide what needs to be switched out. By avoiding a few harsh chemicals and ingredients, your skin will be happier and healthier, and so will your baby. And most importantly, hydrate. Nothing like staying hydrated to keep your skin glowing and fresh, all pregnancy long!
Join the other 1,000,000+ expecting mamas who love Bump Boxes.