The Ultimate Gift Guide for Expecting Dads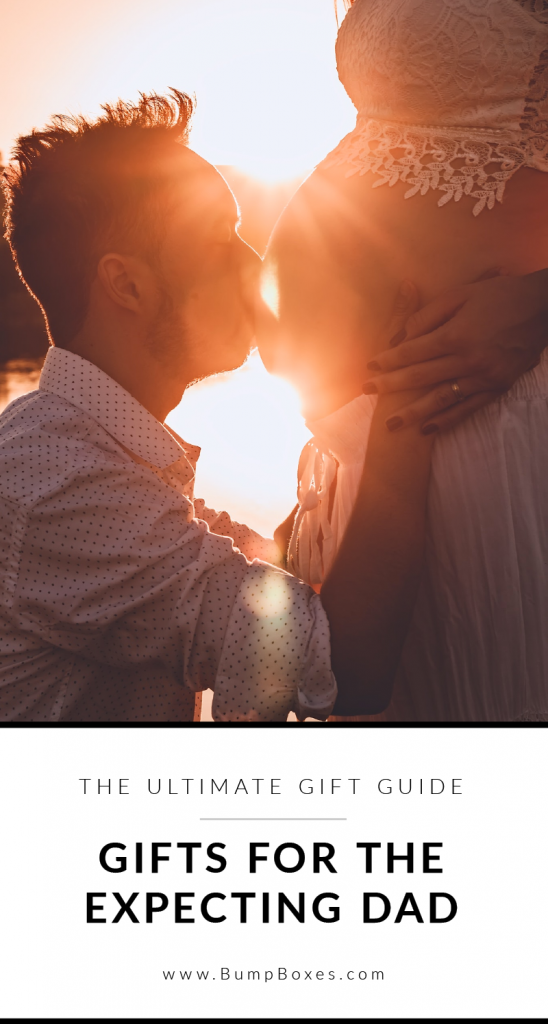 Just because that baby isn't born yet doesn't mean you can't celebrate an 'expecting' father's day!  Think about it, Mama, he's gained a little sympathy weight and he has given a few mediocre foot rubs, so he deserves a little something for all his trouble.  Don't worry, we've got you covered!
Expecting Dads Gift Guide
1) Fossil SmartWatch ($255 @ Fossil) – Watches are always a great gift idea, and this is no exception!  What makes this one great is that it seamlessly syncs to your phone, which is great for you!  No more excuses about how he "didn't see" your text!  We just really love how classy this looks for a smart watch!
2)  Papabear Shirt ($19+ @ Etsy) – We love the sentiment behind a sweet t-shirt.  Celebrate his new dad-status with this adorable shirt from Etsy!  It's adorable and lets you know not to poke the bear and mess with his new family!
3)  Vilah Bloom's Monroe On-the-Go ($149 @ Bump Boxes)– We love how versatile and "manly" this diaper bag is!  Made of sleek heavy duty canvas and full of compartments to stuff items for both dad and baby, he'll be super grateful you snagged this for him!  Even better, it can double as a laptop case!
4)  Go Pro Hero Session Action Camera ($149 @ Best Buy) – You're both going to be so glad you gifted him this!  We love that it's hands free, allowing you to catch all of the special moments…from birth, to first time eating baby food, to first steps and words!  Plus, it's waterproof–and you'll need that!
5) My Dad Loves Me ($34.99 hardcover @ Put Me in the Story or $19.99 paperback) – Welcome your expecting dad into fatherhood with this book you can personalize just for him!  With ways to include your new little one's name and special names for dad, he will love having this as a keepsake and to read to baby!  You do not want to miss out on this sweet opportunity.
6)  Nursery Works Sleepytime Rocker ($499 @ Fawn and Forest)– We love this rocker….it's comfy, stylish and the perfect place to rock the little one to sleep.  Dad will love getting in some quality time with your new little one, and you'll love the peace and quiet!
7)  Fitbit Blaze ($199.95 @ Fitbit) –This is a great gift for dads that love to be active, or ones that want to be active now that they have little ones to chase after!  (And if you're having a girl, they'll want to chase after anyone that tries to date her!)  We love that this one monitors heart rate, offers on screen workouts, and includes GPS!
8) The Dad Box ($49.99 @ Bump Boxes)
The ultimate gift box for the expecting dad, whether he's the handy dad, the manly dad, the dapper dad or the new dad!  He's going to love this box packed with the best goods to usher him into fatherhood, and you'll love how easy a gift it makes!