What are the benefits to using a breast pump?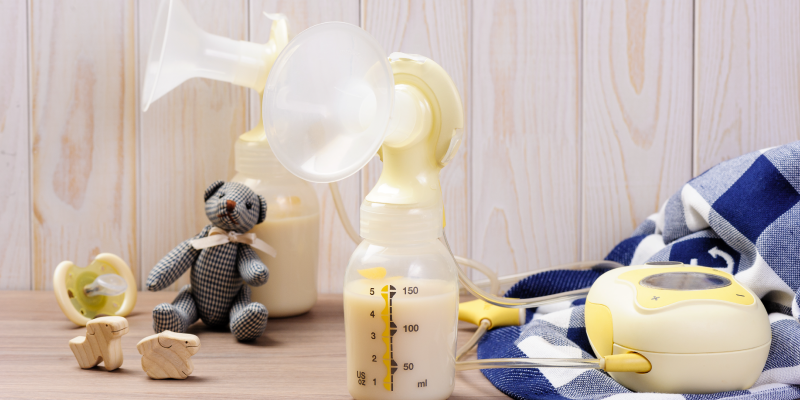 Breast pumping is simply a tool for the real world of breastfeeding. If you're venturing into the world of breastfeeding, you need a breast pump. With the invention of the breast pump—which, by the way, occurred in 1854—moms got a taste of freedom and flexibility. Gone are the days when mom must be present to feed the baby. Now don't get us wrong, not only does breastfeeding provide nutrient-packed breast milk—the benefits to using a breast pump are numerous.
If you're a breastfeeder and wondering about adding breast pumping to your schedule, here are a few potential benefits. And not all breast pumping is the same—you can personalize your experience by choosing an electric or manual pump, and making the process fit you and your baby's needs.
Benefit One: Access
Breastfeeding mamas know the nourishing goodness that is breast milk. But it may not always be realistic for mom and baby to be in the same room at feeding time. Working outside the home, running must-do errands and maneuvering other life activities may create a real obstacle to breastfeeding. Breast pumping lets the baby continue to have access to breast milk when mom's not around.

Benefit Two: Life-Saving
More than a matter of convenience, breast pumping may be the only option for babies in the NICU or ones who cannot be nursed. The health benefits of breast milk may be even more important for babies under these circumstances. Not only does a new mom get to pass on nutrient-rich breast milk, but she may also feel a greater sense of contribution to her baby's recovery.

Benefit Three: Bonding
Serious bonding happens at feeding time, and breast pumping allows the non-breastfeeding partner a chance to share in the love. Not only can breast pumping foster attachment, but it may also give a tired mama a break on midnight feedings. Share the love. Share the responsibility.
Benefit Four: Boob Freedom
The physical benefits of breast pumping are not only for babies. If you breastfeed, you know the feeling well. The pressure and heaviness builds, feeling like your boobs may actually burst if you can't feed or pump—now! Pumping can offer you that sweet relief you need. Breast pumping can also be a way to reduce the chance of mastitis.
Benefit Five: Supply
Breast pumping means having access to additional breast milk. More breast milk? Yes, please! Stored breast milk (and always remember to properly store milk!) gives you a back-up supply should you ever need it. It may also give you a sense of security if you have concerns about milk production and supply.
The benefits of using a breast pump range from convenience to significant health benefits for at-risk babies. In an ideal world, breastfeeding mamas would always be available when a baby decides it's time to eat—and go ahead and try to negotiate when feeding time is with a baby, we dare you. But if you find yourself wanting to breastfeed, and know that you have serious gaps in your day when you can't, breast pumping my be the solution for you.
Get the Best Breast Pump – Free with Insurance!
Choose from a selection of the best breast pumps, including electric and manual breast pumps, plus a medela breast pump.
Join the other 1,000,000+ expecting mamas who love Bump Boxes.