What to Pack in your Hospital Bag!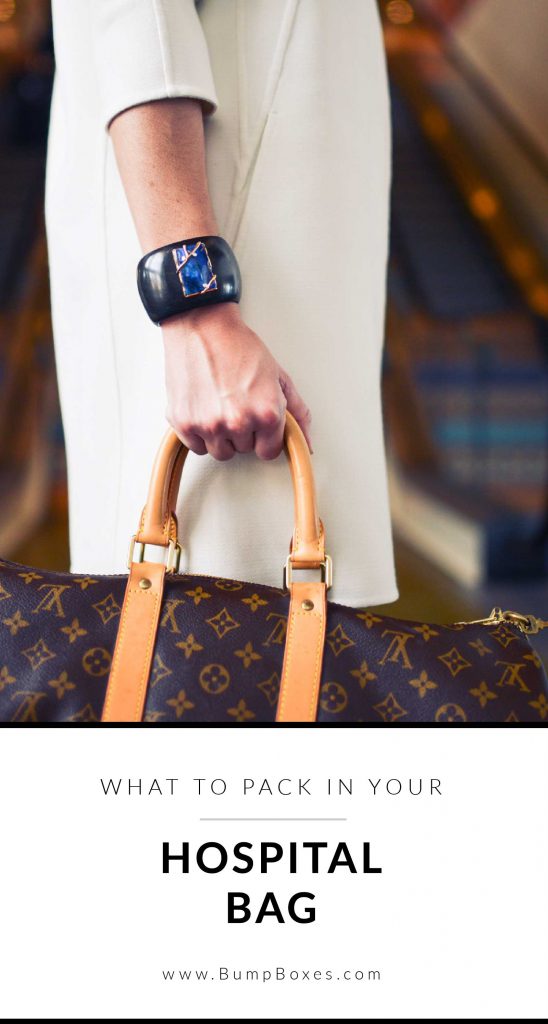 What should you pack in your hospital bag?  What do you REALLY need?  Nothing can prepare you for motherhood, but being prepared for the hospital is a great way to help with the stress of the upcoming birth (because yes, the unknowns of birth are both really exciting and scary).  We've compiled a list of must haves that you should include in your hospital bag so you don't have to worry!
What should I pack in my hospital bag?
Nonskid socks you can wear in the halls – Most people forget about this one, but you'll be walking quite a bit during labor (you won't even be thinking about putting shoes on…you have contractions to worry about!). Plus, waking up for late night feedings or walking baby around at 3AM to get them to fall back asleep when your exhausted, you'll definitely want some nonskid socks.  Push Socks are a Bump Boxes favorite!  Labor isn't easy, and the "Push" on the socks adds a little extra motivation!  Putting a couple pair in your hospital bag is a great idea.
Warm robe/sweater & a few clean PJ's – Sometimes, all you want after labor is to feel human again…and getting out of the hospital gown into some familiar clothes definitely helps. You probably had about 10 different people see your lady bits while you were screaming obscenities right?  For some reason, exhaustion and clean PJ's helps you to forget that!
Nursing Bra, pads & nipple cream – The first few days of breastfeeding are crucial to continuing after you leave the hospital. Also, engorgement can take a toll and be painful as your milk supply ramps up.  A nursing bra, pads and nipple cream are must haves!  Earth Mama Angel Baby's Natural Nipple Cream is the best for healing cracked, sore nipples (it will literally take 24 hours…it's crazy amazing).
Lip Balm  – Hospitals are really dry, so it's always nice to have lip balm on hand. Plus, if you forget your nipple cream you can always use this in a punch!
Headband/Ponytail Holder – Labor can get pretty intense (they call it labor for a reason!), even recovering from a c-section can be tough. Getting your hair up and out of your face can be just the lift you need to get through it.
Back Massager for labor – One way to help ease the pain is to have someone rub your lower back with a back massager. This is definitely a must have in your hospital bag to get through those long hours!
Hard candy & No Mo Nausea band for nausea – Most people don't realize that labor and a c-section recovery can cause you to be nauseous. Take some hard candy and No Mo Nausea bands with you to help.  No Mo Nausea bands are great because they incorporate peppermint oil, which is known to help alleviate nausea!
Healthy Snacks – You can get really hungry at the hospital, especially if you're breastfeeding (you can lose 500 calories a day!). The cafeteria might be closed at 3AM or the vending machines might be a hike.  Bring some healthy snacks for those late nights.
Cell phone & Camera PLUS the chargers – This is an absolute must for pictures and giving family and friends updates! Don't forget the chargers.
Toiletries & personal care items (shower, makeup & hair items) – Anything you need for your daily routine is a must for your hospital bag, from shampoo to makeup to a hair dryer.
Heavy Flow sanitary pads/disposable underwear – Yes, regardless of vaginal birth or c-section, there will be bleeding…and lots of it! The hospital will have disposable underwear for you, but if you prefer your own bring some!
A going home outfit – Remember, your belly will not go back to normal right after baby! Make sure you bring an outfit that is 6 month maternity size.
Post Partum Belly Belt – This is a lifesaver. It will take time for your belly to get back to normal, and a postpartum belly belt helps speed up the process!  Plus, it feels more comfortable wearing it…it's similar to wearing a bra but for your belly.
Significant other's clothes/toiletries – It's easy to forget about your significant other when you're thinking about the birth, but make sure they don't forget to bring a couple changes of clothes and their toiletries.  Having a separate hospital bag for your significant other is a great idea.
Don't forget Baby's stuff! – Don't forget the carseat, coming home outfit, warm blankets for the ride home and outdoor gear if it's cold!
Don't worry, if you forget to pack something in your hospital bag, more often than not the hospital will provide you with an alternative.
You got this Mama!
<3 Christine