Why You Can't Afford To Turn Down Prenatal Vitamins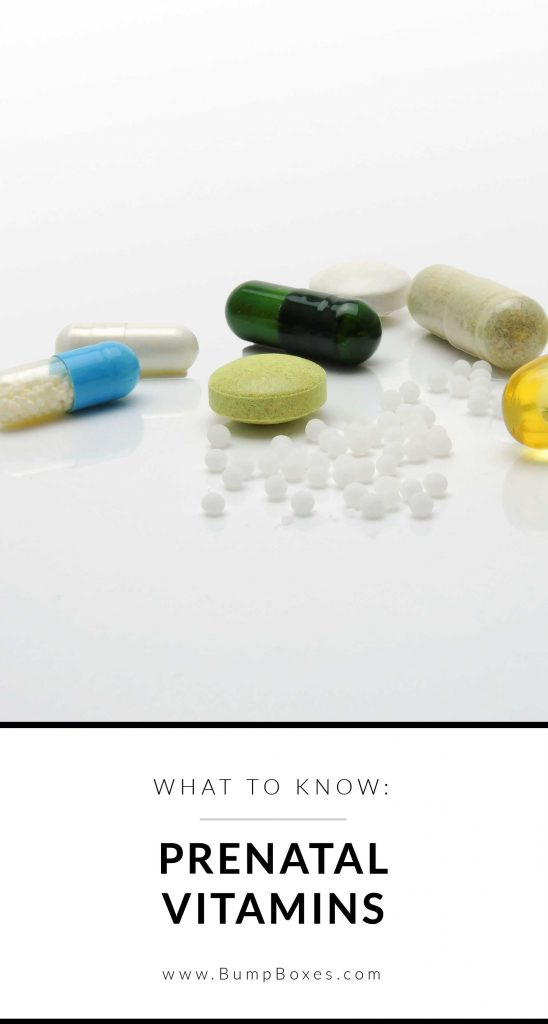 You've probably heard a lot about prenatal vitamins – especially if you're reading the Bump Boxes blog! In fact, even if you're not a mommy yourself, you've likely been told about the awesome hair-boosting, nail-growing powers that prenatal vitamins give you.
But there's some misconception about what these little pills actually do, and how important they really are.
What Do You Mean "Prenatal"?
First off, "prenatal" isn't a super accurate name. Pre-prenatal is closer to the truth, because pregnant moms need the nutrient folic acid long before they know for sure that they're pregnant. Prenatal vitamins are packed with this stuff, also known as vitamin B-9, which is actually so important that folic acid supplements are covered by the affordable care act. It's a big deal because it helps prevent lots of life-threatening diseases and conditions from happening, some of which develop before a pregnancy test can confirm your pregnancy. Folic acid is a key player in the proper development of a baby's spinal cord and brain. Giving baby enough of it greatly reduces the chances of birth defects and major problems. Even more, after baby is born and when breastfeeding begins, prenatal vitamins provide nutrients that make mommies' breastmilk that much better for baby.
So when they say "prenatal vitamins", think "at-least-one-month-before-pregnancy-and-even-a-couple-weeks-after-pregnancy vitamins". Catchy, we know.
I Am Iron Mom
One thing that babies and moms need during pregnancy is iron. Iron is what helps blood deliver oxygen to the body. This can be found in meats, fish, leafy greens related to cabbage (such as broccoli and kale), lots of different beans and enriched grains. Even though those foods sound like staples in a healthy diet, this is where the term "eating for two" comes from. Pregnant moms need twice the nutrients! Forgoing a prenatal vitamin can lead to an iron deficiency in your baby. Iron deficiencies are the leading cause of pregnancy anemia (not enough oxygen in the red blood cells). So pop that pill to help prevent low birthweight, anemia, and early birth!
Got Calcium?
Everyone knows that calcium is good for your bones. Calcium is what strengthens and grows your skeleton and teeth. It goes naturally that when you are growing a tiny person (complete with bones) that you need a ton of calcium! Most prenatal vitamins come with calcium, which will work well with a diet that has plenty of yogurt, cheese, and milk. Your baby needs the extra calcium and will find a way to get it whether you get enough in your diet or not. That means that your body will provide baby with calcium from your own bones and teeth if your diet is lacking!
Tough to Swallow
There are a lot of sources out there that claim women with balanced diets will not need to take a prenatal vitamin. While this may be half-true, the simple fact is that even people who think they have a nutritious diet are missing out on something important – be it hard-to-find-naturally folic acid, or omega-3 fatty acids which are usually only in fish (make sure you eat fish in moderation and exclude high-mercury fish from your diet). Mix in the wild pregnancy cravings of the early trimesters and you have a recipe for a diet that needs more nutrients.
One common complaint is that prenatal vitamins cause nausea. If it gets unbearable, we recommend asking your doc for a different vitamin. Go for a chewable, they're easier on the stomach! Also try taking your vitamin with food and plenty of water. That should help with the other noted complaint about prenatal vitamins: constipation. The iron in the pill contributes to this symptom. Never fear, it can be knocked out with plenty of fiber from fruits and veggies!
If you are looking for a way to get your prenatal nutrition without even taking a pill, there are a few awesome alternatives available! One of our top suggestions is ERZO, which is a complete prenatal supplement in a delectable biscuit. Who says you can't get your vitamins in apple cinnamon form? (BTW you can click here for a chance to win a FULL MONTH OF ERZO!) If you would rather get your from a tasty beverage, Mommy Water is for you. Just pour in your drink and enjoy!
That sums up a nice little beginner's guide for prenatal vitamins. If you're a mom who missed out on taking them before you knew you were pregnant, its okay! Just be sure to start taking them! There's no reason to deny your baby the proper nutrients, so call your doctor and get on the prenatal train as soon as possible!