You're Pregnant! Now What?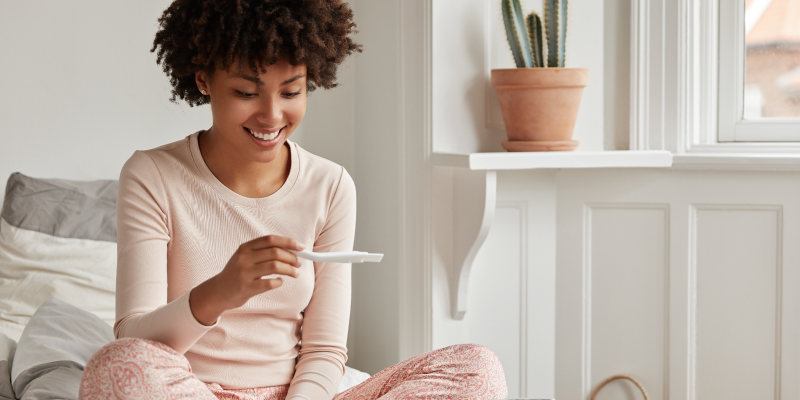 There they are–those two lines on your pregnancy test!  
You're pregnant!  
But wait…now what? Where do you even begin to prepare for this tiny life Believe it or not, Mama, there are a number of things you can get done even before those magical 12 weeks are past. So, while you think about the different ways to share the sweet news with your world, we're helping you break down the things you may want to do first!
Start popping those prenatals
If you haven't already (yup, you can take them prior to the happy news, especially if you are thinking about having a baby), now is the time to start taking prenatal vitamins! Why do you need to take prenatal vitamins? Things like neural development begin even before you realize you are pregnant making these vitamins an important part in supporting your body and your growing little one! PS…did you know we can deliver your prenatal vitamins every month for free?! Not kidding! Check them out here. We aren't crazy, we only want to make sure all moms get the nutrients they need, no matter what their budget is.
Find and make an appointment with a doctor
Finding a healthcare provider you feel comfortable with for your pregnancy is possibly the most important thing you need to do! They will help you make sure your pregnancy is on track, monitor any possibilities of complications, and most importantly, watch baby's growth and development!
Get healthy
If you aren't already, start adjusting your diet to make sure it is balanced and healthy, as well as up your daily water intake! You are now growing a human! Adding things like lean protein (poultry, fish, beans, cheese) and whole grains to your diet can help provide both of you with nutrients you need! Start working your water intake up to 90oz a day–we know it sounds crazy, but so important (plus, you'll figure out where all the clean bathrooms are located)!
Start a pregnancy journal
Don't forget a thing! Pregnancy is a beautiful chapter in life, and journaling your progress can make it so much more memorable! Grab that camera, start taking those bump pics (you'll LOVE seeing your bump grow) and write your little Bitsy a few letters about all these feelings you have! We even have a pretty cool pregnancy journal in our shop.
Use. That. Stretchmark. Cream.
Your bump may be small (or seem non-existent!) but staying moisturized will do wonders for your skin, plus help you avoid stretchmarks! Try to make it a habit early on to slather some belly butter on in the morning, at night, and after showers. Trust us and other Bump Mamas (they leave some great reviews)! Check out our stretchmark creams and oils here.
Mama, the most important thing right now is to remember to soak in this exciting moment. You're pregnant! You're going to be bringing a tiny human into this world–one of the most important jobs a woman could have. Get ready for the best days of your life!  
Create a Registry with Bump Boxes! Share with your loved ones so they can pamper you from pregnancy through baby's 3rd birthday!!