Holiday Gift Guide: Best Gifts for New Dads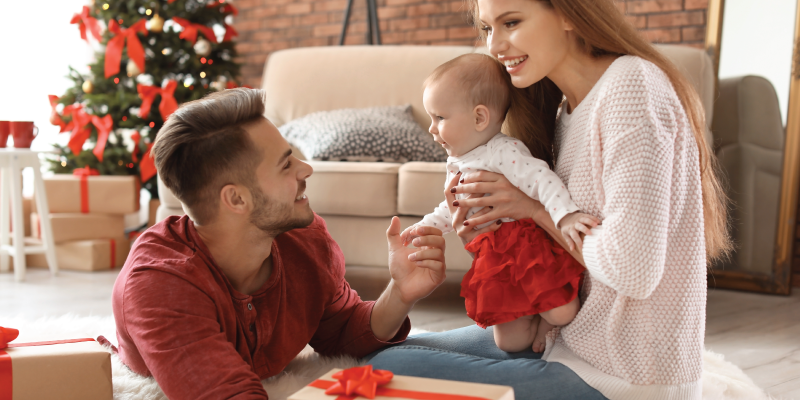 The holidays are quickly approaching and as you look at the list of people you need to buy gifts for, you notice new-dad Dave. What do you buy Dave? Another necktie? A socket wrench set? A "#1 Dad!" mug? Sure, the typical gifts for dads can be useful, but they don't necessarily offer much for a new dad. Gifts for new dads are no longer restricted to only a few choices. The items included in this guide inspire functionality, bonding and even the infamous dad humor (Dad jokes? Yes, please!).
The Ergobaby Carrier is a comfortable ride for both baby and dad. Multiple position options make this out-and-about carrier a versatile must-have for any new dad.

Daddy and Me Board Book, $39.99
A memory keepsake just for dad and baby, each board book is personalized with pictures and text. Which makes this one of the best Christmas gifts for new dads who want to document the special moments.
A must-have and the perfect pregnancy gift for any expecting dad, the Be Prepared Dad Handbook is his go-to survival guide. Being prepared isn't a motto reserved only for outdoor adventurers. Dad-hood and all its surprises are less overwhelming with the tips included in this book.
Personalised Daddy and Baby Bonding Activity Ideas, $24.29
Bonding isn't only for mamas and babies. The activities included in this gift are great for encouraging dads to be involved in play!
Threadrock Brew Dad & Micro Brew Infant Bodysuit & Men's T-Shirt, $21.25
Do you have a hipster dad on your gift list? Raise his level of cool with a matching dad and baby shirt and onesie.
The Happiest Baby on the Block, $12.96
A book to help calm babies and reduce crying, baby AND dad will be the happiest on the block.

The Letters to You book is ideal for the sentimental dad. Special memories and yearly letters written by dad to baby make this a meaningful gift new dads will love.
Tactical Baby Gear Deuce 2.0 Tactical Diaper Bag, $80
A diaper bag that can handle the toughest of messes, it is a military-grade bag for new dads that want their diaper bag to say "I'm all man, no glam, and yes, I can recommend a diaper rash balm for sensitive bums."
Just because you don't experience pregnancy in a literal sense, as a soon-to-be father, your life is about to change too. The Dad Box is a pregnancy subscription box full of items you'll need as a new dad. Full of men's care products and baby essentials, you'll have everything you need to rock your new role as the handy dad, the manly dad and the new dad!
A modern twist to the "#1 Dad!" mug: the DILF mug—need we say more? It's one of the best gifts for new dads with a great sense of humor #sorrynotsorry
Your Baby's First Word Will Be DADA, $5
This board book is a hilarious treat for both dad and baby. Begin that all-important reading to kids early with a story dads will enjoy reading again and again. And again. And again.

Dad Jokes: Terribly Good Dad Jokes, $6.99
What's better than a dad joke? Give the eye-rolling-joke-telling dad new material with a book that is all about this groan-worthy humor.

Move over James Bond and make room for dad. Surprise him with a special men's care product he won't forget. We guarantee you'll make the proud papa or hubby in your life feel like the "best dad" ever with these cuff links from Cuffdaddy (clever company name FTW!)
OurLoveWas Born creates customized gifts for dads. Each print incorporates a picture of the night sky for a unique and beautiful present for a new dad.
The best gifts for new dads don't need to be presents that are likely to get shoved to the back of a closet or drawer. Give a gift that is meaningful, humorous or practical, and the new dad in your life will thank you for not beginning a collection of endless neckties (leave that for Father's Day!).
Join the other 1,000,000+ expecting mamas who love Bump Boxes.

Suggested for you: