10 Creative Ways to Announce Pregnancy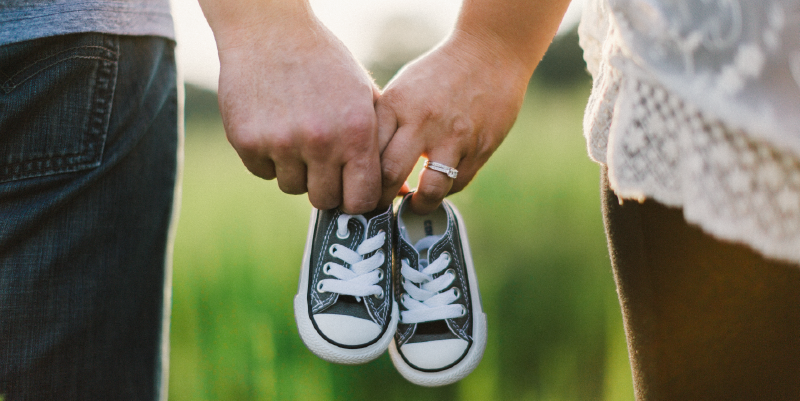 Are you expecting a baby and not sure how to tell your husband? Discovering you're pregnant is exciting, and announcing it to the world feels incredible. But figuring out how you're going to surprise your husband or partner is an even bigger deal! From heartwarming and playful to "shit just got real" funny, there are so many clever ways to tell your husband he's going to be a daddy. Check out these 10 creative ways to tell your partner you're pregnant.
Help from the Dog
Get your furbaby in on the act by having them pose with the announcement that someone is about to become a daddy. Is there anything cuter than dogs posing? Nope!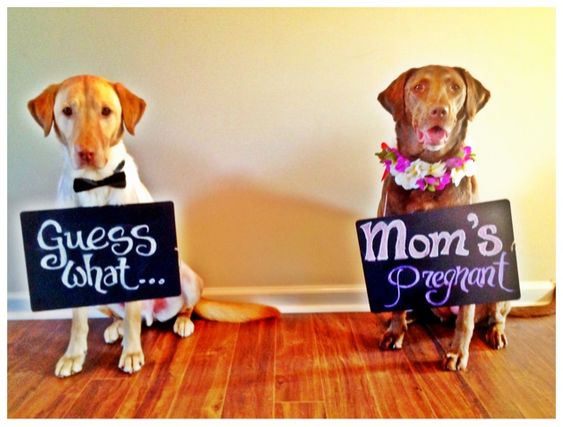 "We're Pregnant" Plate
Is your husband a big food guy? Serve him his dinner and watch his face as he gets to the bottom of the plate for this pregnancy reveal. The news can also be revealed with a coffee mug or anything where the words appear at the bottom.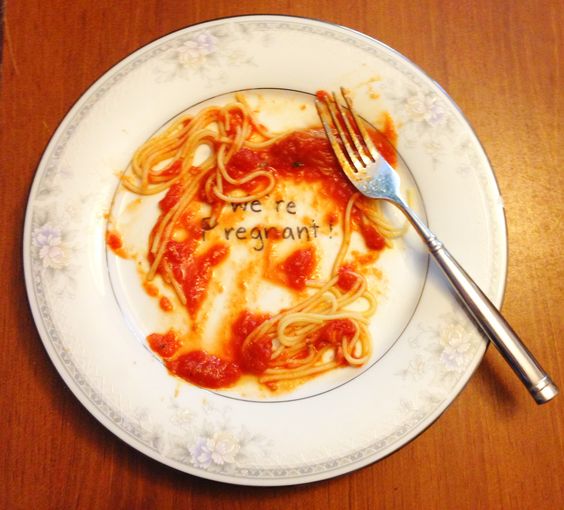 Image credit:
Mommyanity
Photobomb Your Husband
Couple Brandon and Brianne Dow were posing for Christmas pics, and it turned out to be an elaborate pregnancy reveal where she held up a sign with the news and completely shocked Brandon in the process. D'awww!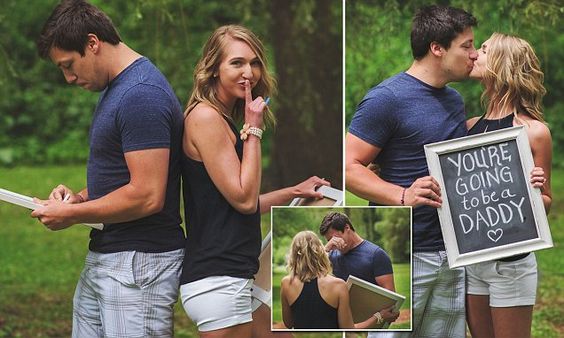 Personalized and Heartfelt
The image of his little boy or girl wearing matching shoes is enough to melt any expecting daddy's heart. Personalize the note and you'll both treasure the memory forever.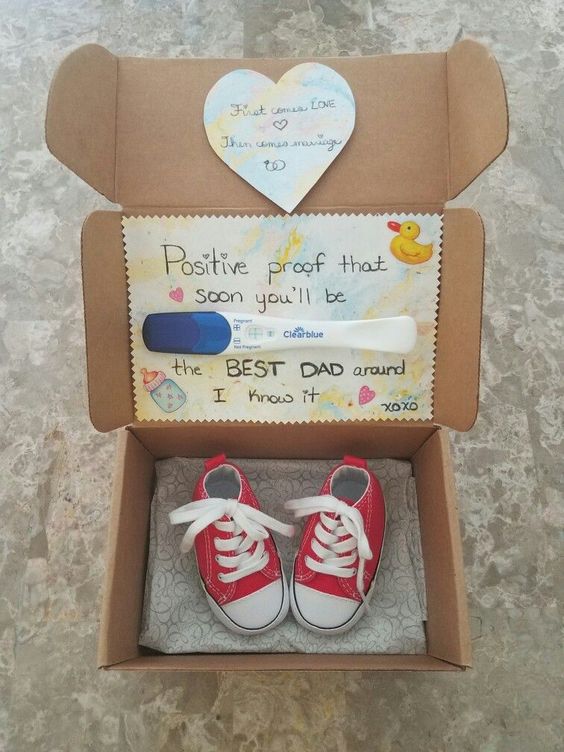 Say it With a Fortune Cookie
During your next night of Chinese takeout, give him a fortune cookie that "predicts" his future. You can easily print out a fake fortune telling him "in 9 months, you'll become a daddy," and watch the look of shock on his face.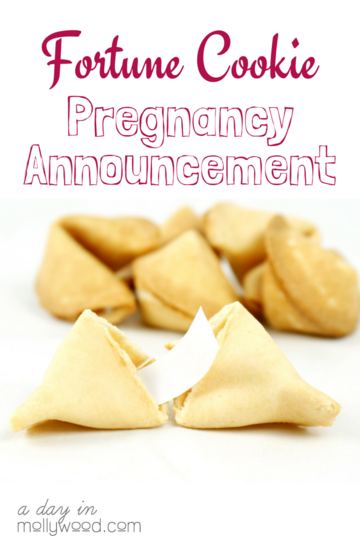 Image credit: 
A Day in Mollywood
Superfan Pregnancy Reveal
Has your hubby always wished for a full sports team of his own? Now he can see the first part of that dream realized when you announce your pregnancy with several of his favorite teams in cute little onesies and tiny jerseys.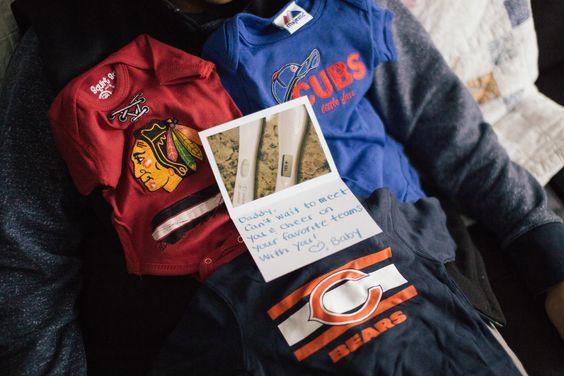 Will You Be My Baby Daddy?
Who says the guys are the only ones who can propose? Now you can turn the tables and create a homemade proposal that he can't refuse! #hesaidyes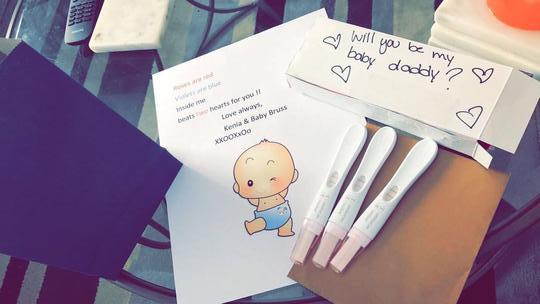 A Picture is Worth a Thousand Words
This pregnancy reveal doubles as the cutest and most practical baby keepsake. Either plan to give it as a gift to him or have it sitting somewhere for him to find, and you'll have one happy daddy-to-be.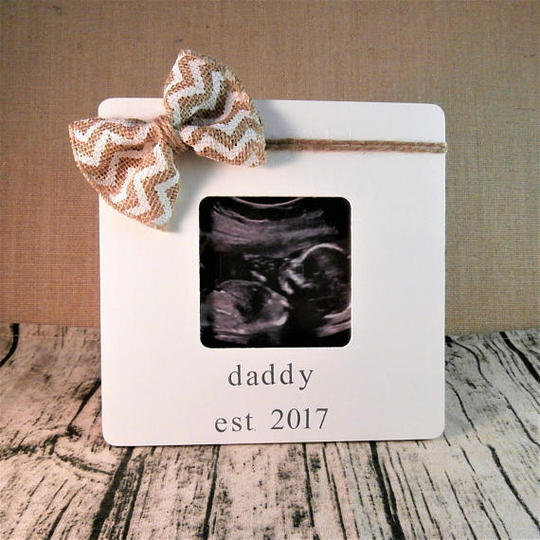 Honest and Hilarious Joke Reveal
Does your partner have the perfect sense of humor? Turn your reveal into a hilarious way to tell your partner that you're pregnant. Perfect for jokester couples!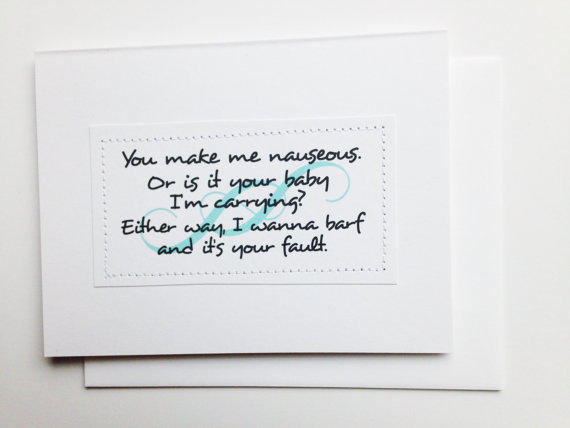 Chocolate Lovers Announcement
The fastest way to a man's heart is through his stomach, so telling him he's going to be a dad tells him everything he needs to know. You can't go wrong with chocolate!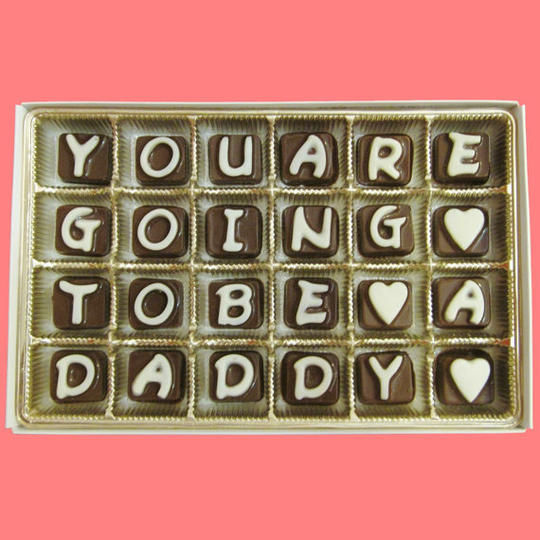 ---
Items of the Day
Dad Box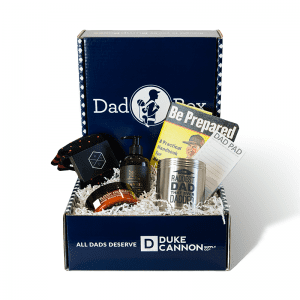 $49.99
---
Join the other 1,000,000+ expecting mamas who love Bump Boxes.