Labor and Delivery: The Dad's Guide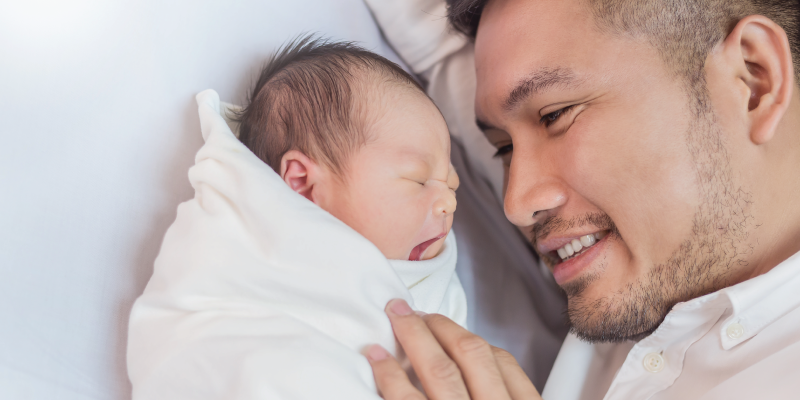 Alright, dads, you're having a baby! Exciting, right? Your wife is going to go into labor, push out a beautiful baby and off you go. Except…maybe not. In this day and age, it's becoming more and more common for dads to be a little more involved in the process. But how? Have no fear, Bump Boxes is here with your guide to the exciting time known as labor and delivery.
Preparing for L&D
Yes, there are absolutely things you can be doing ahead of time. In fact, this is one of the most important parts of your involvement. This is the time for you to establish a strong, supportive foundation with your partner, and to let her know what you'd like your involvement to be.
Attend birthing classes. This one is huge. So many hospitals, birthing centers and midwives offer free or low-cost birthing classes for first time (or any time) parents. This is a wonderful time for you to learn what's going to happen, how to best comfort your partner and what to expect throughout the process. A birthing class can not only educate you, but also prepare you and ease some of the nerves or fear you may be feeling.
Work with your partner on the birth plan. However, do not confuse this with creating the birth plan. It is entirely up to your partner on what kind of birth she would like to have. Your job in this is to know where you fit in, support her and her beliefs, and stand behind her when the time comes. Help ensure that her birth plan is enacted correctly (as long as it's safe).
Do your research. While you don't need to get to work on a 10-page research report, some digging into labor and delivery will make a huge difference for you once the day comes. Learn the common terms you're likely to hear, familiarize yourself on the types of births available and do some additional reading on pain relief techniques. Trust us, your partner will be so grateful.
During L&D
Crunch time! Take a few deep breaths, get your partner to the hospital and let's DO this, dad!
Acknowledge your role as gopher. Trust us, at least for a while, you'll be the designated errand-runner. Do not take this job lightly. While you can't provide medical attention, there are still things you can do to provide for your partner. Go for ice chips, blankets or cool rags–whatever she needs.
Grow a thick skin. Dads, labor and delivery aren't going to be easy on mom. She may turn into a raging monster; she may cry and scream. Trust us when we say that she will not mean what she says. Encourage her, let her get it out and then move on.
After L&D
Once baby comes home, your job's not done. Now is the time to step in and help your partner take care of that beautiful baby you call yours.
Help out. Don't shy away from the late night wake up calls, dirty diapers or feeding sessions. Ask and try to tune into when mom needs help. Offer to step in and take care of baby while she showers or takes a nap. The simple things matter, trust us.
Support her. Whether this is her first or her fifth, her motherly instincts are definitely kicking in. When she feels that something is wrong, don't devalue her. Stand behind your partner and how she feels when it comes to your little one.
Don't forget her. She's your partner for a reason. Now especially is the time to remind her why. Don't let her forget that she has an identity outside of mother. A kiss on the forehead, gentle touch, hug or kind word will go a long way.
We know you might be a little out of your element–parenting isn't an easy job! But with our guide and a little bit of work, we promise you'll be great at handling labor and delivery and beyond.
Join the other 1,000,000+ expecting mamas who love Bump Boxes.