Morning Sickness at Work: How to Handle It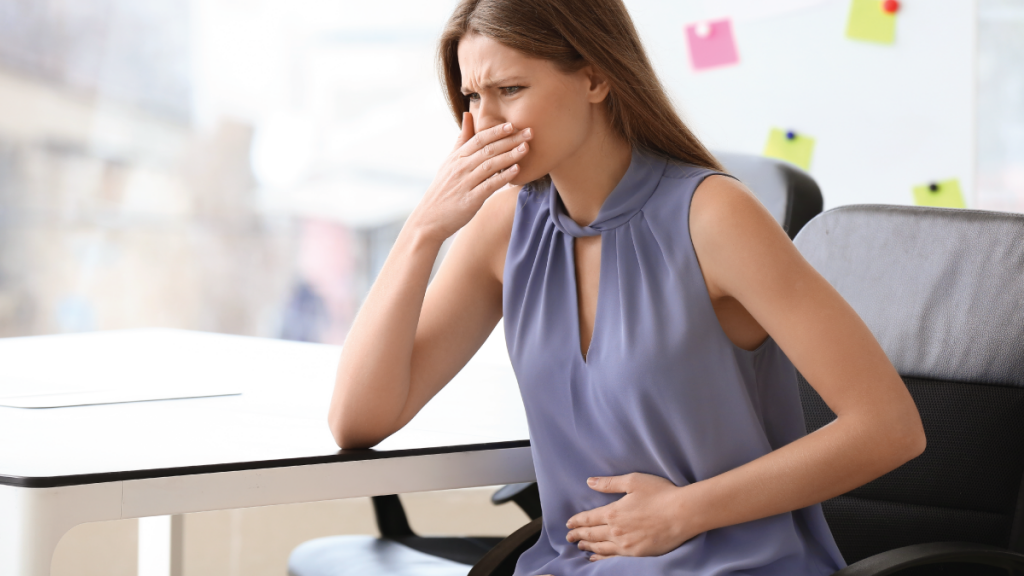 There's nothing worse than morning sickness…except morning sickness at work. When you're not fortunate enough to take much time off work, it can be hard to navigate the unfortunate symptom at the office. When you can't make it go away, try some of the tips below to help things a little more manageable.
THE COMMUTE
Most of us have some form of trek to work, whether it be long or a quick walk down the neighborhood. Either way, even a mundane task such as getting to work can be painful when you're struggling with morning sickness.  
Feeling dizzy and nauseous before even leaving the house? Consider finding public transportation, a ride or even a taxi. Don't risk your safety on this one.

Get some fresh air. If you can walk to work, put on a pair of comfy shoes and enjoy the breeze and sunshine. If not, try keeping your windows rolled down — the fresh air can help soothe upset stomachs.

Keep a few bags in your car. Sometimes getting sick is unavoidable. Keep some paper or plastic bags in your car so you can pull off on the side of the road in a pinch. And make sure to give yourself some extra time in the morning in case this happens!
AT WORK
Getting sick around coworkers can feel incredibly embarrassing, but there are a few ways to minimize your trouble.
Keep a wastebasket or more bags at your desk in case of emergencies.  In a worst case scenario, you won't be able to make it to the restroom.  Make sure you have a back up plan!

Keep cool. Bring a couple ice packs with your lunch. Wrap them in a rag or towel so you can always have something cool to press against your neck or forehead in instances of nausea or dizzy spells.

Hydrate. Keep a full water bottle on hand at all times. Not only can it quell nausea, but it's so important for you to avoid dehydration.

Store snacks. Small snacks like saltines, ginger ale or pretzels can be easily stashed in a desk drawer and help ward off bouts of sickness.  Try these

candies

— they're some of our favorites!

Freshen up. You can feel even worse after you're sick if you don't have the option to clean up. Pack a small cosmetic bag with toothpaste or mouthwash, face wipes, back up makeup and an aromatherapy oil 

to give yourself a fresh start back to your day.
Keep in mind, morning sickness is temporary. Before long, you'll feel back to your usual self, and can enjoy more energy and a better overall pregnancy. Hang in there!
Join the other 1,000,000+ expecting mamas who love Bump Boxes.