Tips to Get the Nursery of Your Dreams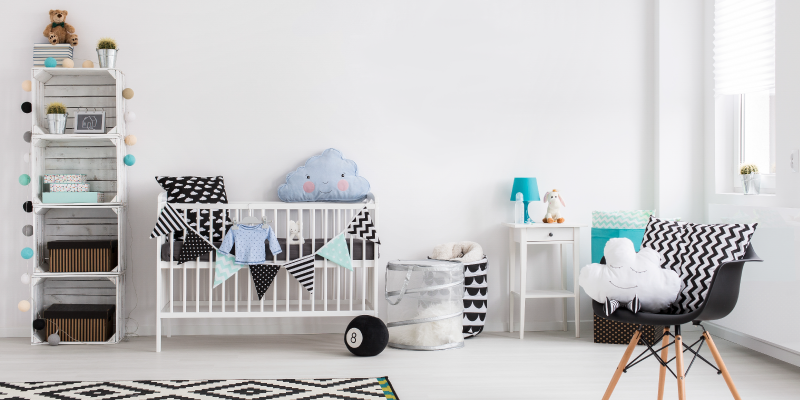 It's fun and engaging to create a space for a newborn, but it can also be quite overwhelming with all the resources available to browse. There are several things to consider to get the nursery of your dreams. But it doesn't have to be as difficult as it sounds. Pinterest, Instagram, Google searches and YouTube can all give you ideas on how to achieve the perfect nursery aesthetic. Here we're sharing additional insight about color, style, bedding, inspiration, and a few other essential dream nursery tip necessities.
Inspiration

Perusing through design inspiration is the best part of figuring out how you want the nursery to look. Prior to starting the room design, search Google, Pinterest and other sources for inspiration and for ideas. Nursery trends for 2019 include shapes, botanicals, farmhouse chic, bold colors and vintage. YouTube videos are another great source of inspiration when it comes to obtaining the right look and feel for your nursery. Seeing a visual of exactly how you may want your nursery to appear all around can be a great starting point.
Bedding and Style

You've heard the term "I slept like a baby," and it makes you think about what a baby needs to sleep so peacefully. Bedding is one of the most crucial parts of designing a dream nursery. Much of today's fashionable bedding designs typically involve travel motifs, bright floral, rural forest, and various shapes. Once you've decided on a decor, choose which bedding parts you would like to include and build the crib. Picking out the right material for newborn bedding can be overwhelming (because they're all so adorable!) but luckily there are a plethora of soft and safe options to decide on.
Furniture and Organization

Making the nursery look great isn't the most difficult component of this project, you need to understand how to create a sensible and comfortable environment for a young child or a newborn baby. With that being said, make sure you find the kind of furniture you want a few weeks prior to starting a nursery as it could take more time than expected for the pieces to be delivered. Of course, the style and the color of the furniture may depend on whether your baby will be a boy or a girl. If you're not having a gender reveal before birth, going neutral is solid option. Also, make sure you know what sizes of furniture to get. After you decide on a style, you'll need to know measurements or have an idea of where to place everything as neatly as possible.
Walls and Accessories

When it comes to the wallpaper, this can be the most fun job of all! Deciding whether you want wallpaper or paint is totally up to you but, fortunately, both options have so many possibilities. Designing your dream nursery wall can consist of many things from decor, polka-dots, baby names, animals, or soft colors. Remember, nothing is permanent and you can always make changes later according to how your baby grows and what her interests may reveal over time. Keep the experience fun and don't stress too much. Decor and accessories make the nursery come alive more than anything else. You can also have fun shopping for things like wall decor, rugs, shelves, memorabilia, lamps, curtains, and more.

Your baby won't have a say on the space you design so make sure it's the nursery of your dreams!
Join the other 1,000,000+ expecting mamas who love Bump Boxes.